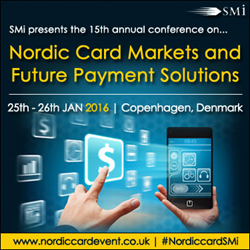 If you are interested in learning more, the Nordic Card Market and Future Payment Solutions conference is a great opportunity for you and your peers to come together and hear from leading organisations - SMi Group
Copenhagen, Denmark (PRWEB UK) 30 November 2015
Michiel will be presenting the innovations in retail payments after SEPA including instant, contactless and mobile payments. In addition to his presentation, this two-day networking event will generate in-depth discussion of the key drivers impacting Nordic Card Markets and Future Payment Solutions.
Join SMi in January and discover what is happening in this burgeoning market to:

Review the latest developments in the rapidly changing payment landscape
Discover new forms of payment including E-Signature and Cloud Wallet
KYC – learn how to tailor services to how your customers want to pay
Hear from the Nordic Banks leading the way in Payment innovation
Discuss the strategic future of traditional financial institutions in a Fintech environment
Hear the successes and challenges of, and network leading Nordic banks including Eurocard AB, Danske Bank, Länsfösäkringar Bank, Nordea, SEB, Tesco Bank and many more - Click here to download the brochure
Interested in learning more? The Nordic Card Market and Future Payment Solutions conference is a great opportunity to come together and hear from leading organisations who will share ideas, solutions and initiatives and to facilitate deeper cooperation in future payments.
Don't forget the business card because attendees will be networking with the following leading industry experts: SEB KORT, Visa Europe, Bank Of Finland, Locke Lord, SEB Merchant Banking, Danish Competition and Consumer Authority, European Central Bank, Danske Bank, Innovalue Management Advisors, Nordea, Tesco Bank, Länsfösäkingar Bank, Barclays Bank, Sparebanken Oresund, PayPal, PSE Consulting, Equens, Danish Competition and Consumer Authority, EnterCard, Sparebanken Sør,
Danmarks Nationalbank, MasterCard and many more!
Visit http://www.nordiccardevent.com/prweb to register online or contact Andrew Gibbons on +44 (0) 207 827 6156 or email agibbons(at)smi-online.co.uk to secure your booking(s)!
Visit http://www.nordiccardevent.com/prweb today to:

Register for the event before 30th November and save £100
View the complete speaker line-up for 2016
Learn more about our sponsors, exhibitors, and media partners
Join SMi Nordic Card Community via #NordiccardSMi or follow @SMiFinance
And much more!
Nordic Card Markets and Future Payment Solutions
25-26 January 2016
Copenhagen, Denmark
http://www.nordiccardevent.com/prweb
-------------------------- END --------------------------