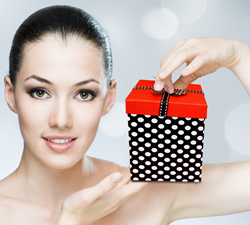 "We Have Beautiful Skincare Gifts Available Today at 40% Off on Monday", says the Sublime Beauty® Founder.
St. Petersburg, FL (PRWEB) November 30, 2015
The Cyber Monday deal is a deep 40% or more discount on every item on both Amazon or its webstore.
It is the right time to get gifts for the skin care lover in your circle. Each Christmas, Sublime Beauty offers a special Christmas Box with bow on top filled with serums. This year, the 3 serums are staples: Collagen, Retinol and Hyaluronic Serums.
Stocking stuffers like Skin Brushes, natural Body Oil, or a Collagen Mask would be unique. Sublime Beauty offers a cute Sampler Box of 9 skincare items, which would also be a great gift.
Use Coupon Code CYBER4XM on Amazon or the Sublime Beauty webstore all day Monday.
Sublime offers a full satisfaction guarantee, and all skincare is made in the US at quality labs.
ABOUT: Sublime Beauty® is a French-inspired quality skincare company that focuses on products to Age Well. Ingredients help to boost collagen, hydrate, relax wrinkles and improve skin. A niche includes healthy Skin Brushes. The company webstore offers free standard shipping and a VIP Club. Sign up for Secret Sales on the site. Products also available on Amazon.