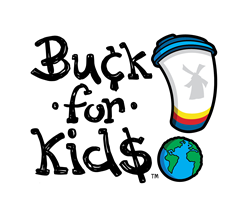 A healthy community starts with healthy, happy kids.
GRANTS PASS, Ore. (PRWEB) November 30, 2015
Friday, Dec. 4, marks Dutch Bros annual Buck for Kids day where all 253 Dutch Bros locations in seven states will donate proceeds from every drink sold to local youth organizations. 
"Kids are our future," said Travis Boersma, Dutch Bros Co-founder.  "Investing in our kids and providing hope and a compelling future for them is monumental in my world."
Each Dutch Bros location is locally owned and operated. Every year, each franchisee selects local youth organizations that are near to their hearts to partner with for Buck for Kids. 
"Each year we partner with our communities to support wonderful organizations," continued Boersma. 
Buck for Kids supports numerous organizations that benefit local youth. These organizations include the Boys & Girls Club, CASA, teen centers, food programs, toy collection programs, and so many more. 
To learn the organization being supported near you visit http://dutchbros.com/news/buck-for-kids-supports-local-youth-programs and to find a location near you, visit http://www.dutchbros.com/locations.
###
About Dutch Bros Coffee
Dutch Bros Coffee is the country's largest privately held, drive-thru coffee company, with over 240 locations and over 4,000 employees in seven states.
Dutch Bros serves specialty coffee, smoothies, freezes, teas and a private-label, Dutch Bros Blue Rebel™ energy drink.
The rich, proprietary coffee blend is handcrafted from start to finish. Every ingredient is measured, every process timed, and every cup perfected.
With a mission of, "Making a Difference, One Cup at a Time," Dutch Bros donates over $1 million annually to nonprofit organizations and local causes selected by local owner-operators.
Dutch Bros Coffee is headquartered in Grants Pass, Ore., where it was founded in 1992 by Dane and Travis Boersma, brothers of Dutch descent.
To learn more about Dutch Bros, visit http://www.dutchbros.com, like Dutch Bros Coffee on Facebook or follow @DutchBros on Twitter.
FOR MEDIA ONLY
Jen Wheatley, pr(at)dutchbros(dot)com, 541.226.7787