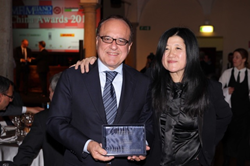 Our motto has always been "how to fall in love with Italian wine."
Milan, Italy (PRWEB) November 28, 2015
During the "China Awards 2015" gala dinner organised on Thursday by Fondazione Italia Cina and Milano Finanza, Vinitaly International was conferred the "Eccellenza Italia" award, a prestigious recognition of the important promotional work carried out in many different cities in Mainland China as well as in Italy through its intense incoming activities.
An on-going work based on important activities of cultural development aimed at appraising Italy's extremely varied and unique wine production, which stands as a crucial support to the commercialization and distribution of our products.
Among the different tools that have been used, the most important has been the rich program of the Vinitaly International Academy (VIA), which, through Vinitaly International, has organized many seminars during its main appointments around the world: the Hong Kong International Wine & Spirits Fair, the off-site showcase of China Food and Drinks Fair for Wine and Spirits in Chengdu, and, this year, the Shanghai Wine and Dine Festival, where Vinitaly International was the sole organizer of the Italian Pavilion dedicated to the celebration of the excellence of Italian wine and food. The promotional activity carried out by Vinitaly International has been strategically so important that Veronafiere decided to open a permanent branch in Shanghai.
"For 20 years, with Vinitaly International, we have supported the Italian wine industry for the promotion of our product on foreign markets. China's market is particularly interesting for Italian wine. Ours is a constant approach and focused on single countries in order to acknowledge in the correct way the peculiarities of our National production. This allows us to offer Italian wineries an opportunity of visibility in order to increase export shares. Among the results achieved by Vinitaly International, I would like to highlight the 40% increase in number of buyers and professionals from China who were present at the last edition of Vinitaly in Verona as well as the substantial number of Chinese visitors – first among the foreign visitors – at the Italian Wine Pavilion VINO A Taste of Italy at Expo 2015," said Giovanni Mantovani, CEO of Veronafiere.
"This award is of particular importance to us for two reasons," adds Stevie Kim, Managing Director di Vinitaly International. "On the one hand it was conferred by Fondazione Italia Cina who's mission is to present an image of Italy that is unified and coordinated in a country like China where Italian wine is still promoted in a very fragmented way. Our wine is only one tenth of French wine and the fact that it is very complex with 594 grape varietals and 450 denominations, doesn't help of course.
Secondly, the "Eccellenza Italia" also highlights the importance of incoming activities which we think are of primary importance. Our motto has always been "how to fall in love with Italian wine". Italian wine isn't less good than French wine, but we must manage to bring as many Chinese as possible to Italy so that they can get to know it first hand and appreciate its quality."
About:
Veronafiere is the leading organizer of trade shows in Italy including Vinitaly (http://www.vinitaly.com), the largest wine and spirits fair in the world. During its 49th edition Vinitaly counted some 4.000 exhibitors on a 100.000 square meter area and 150.000 visitors including more than 2.600 journalists from 46 different countries. The next edition of the fair will take place on 10 - 13 April 2016.
The premier event to Vinitaly, OperaWine (http://www.vinitalyinternational.com) "Finest Italian Wines: 100 Great Producers," will unite international wine professionals on April 9th in the heart of Verona, offering them the unique opportunity to discover and taste the wines of the 100 Best Italian Producers, as selected by Wine Spectator. Since 1998 Vinitaly International travels to several countries such as Russia, China, USA and Hong Kong thanks to its strategic arm abroad, Vinitaly International. In February 2014 Vinitaly International launched an educational project, the Vinitaly International Academy (VIA) with the aim of divulging and broadcasting the excellence and diversity of Italian wine around the globe.
VIA has now also created its very first Certification Course with the aim of creating new Ambassadors of Italian Wine in the World.
###