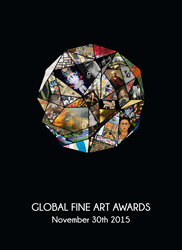 "My portraits are neither children nor adults and radiate extraordinary potential. At a time when changing economies, new violence or religion intensify base reactions to migration and race, they are an essential emblem of tolerance." Jaume Plensa
Miami, Fl (PRWEB) December 01, 2015
The Global Fine Art Awards(GFAA) research and nominating committees reviewed over 1,000 exhibitions and installations in more than 200 museums and galleries, from which the GFAA judges selected 28 finalists and ultimately 8 Winners and 2 Honorable Mentions for the 2015 program.
The 9th and final award, "Youniversal," was determined by public voting, which all nominees were eligible to win. Thousands of votes were cast during the voting period, from October 15th through November 1st, 2015.
Nominees and guests, patrons and sponsors of the GFAA program celebrated the 2015 awards at a black-tie event and ceremony this evening at the historic Freedom Tower at Miami Dade College, Co-Hosted by Miami Dade College President Dr. Eduardo J. Padron and Judy Holm, GFAA President and CEO.
GFAA judges Peter Trippi, Dean Phelus, Gina Costa and Dr. Barbara Aust-Wegemund selected the winners from 28 finalists in the following categories: Contemporary and Post-War Art; Impressionist and Modern Art; Renaissance, Baroque, Old Masters and Dynasties; Ancient Art; Public or Outdoor Installation or Exhibition, Design, Photography and Fringe.
In learning that the Moscow Kremlin Museum' s exhibition Charles Rennie Mackintosh: Manifest of the New Style wins the Youniversal award, Dr. Olga Dmitrieva, the Museum's Deputy General Director of Education, and Professor, Faculty of History, Moscow State University says, "Arranging this exhibition we wanted to pay a tribute to the outstanding architect, artist and designer. Unfortunately, it also became a reminder of how fragile the works of art could be, even in the present day world. Once Mackintosh had expressed his philosophical reflections on art, asserting: "Art is a flower, life is a green leaf". Both are vulnerable. But I do hope that with this project we made our humble contribution to the eternal triumph of life and art over death and destruction."
The J. Paul Getty Museum' s "Light, Paper, Process: Reinventing Photography" exhibition receives the award for best Photography. Timothy Potts, Director of the J. Paul Getty Museum, says "On behalf of all of us at the J. Paul Getty Museum, in particular Virginia Heckert, the curator of Light, Paper, Process: Reinventing Photography, I want to thank the organizers and judges at the Global Fine Art Awards for selecting this extraordinary exhibition as the inaugural winner in the Photography category. We are all very proud."
THE 2015 GFAA WINNERS
Youniversal
Charles Rennie Mackintosh: Manifest of the New Style / Moscow Kremlin Museum / Moscow, Russia
Best Contemporary / Post-War
America Is Hard to See / Whitney Museum of American Art/ NYC, USA
Best Impressionist / Modern
Discovering the Impressionists: Paul Durand-Ruel and the New Painting / Philadelphia Museum of Art/ Philadelphia, USA
Honorable Mention
Frida Kahlo: Art * Garden * Life / New York Botanical Gardens / NYC, USA
Best Renaissance, Baroque, Old Masters, Dynasties
Sultans of Deccan India, 1500-1700: Opulence and Fantasy / The Metropolitan Museum of Art / NYC, USA
Honorable Mention
Ming: 50 years that changed China / The British Museum / London, England
Best Ancient Art
Power and Pathos: Bronze Sculpture of the Hellenistic World / Palazzo Strozzi / Florence, Italy and The J. Paul Getty Museum / Los Angeles, U.S.A.
Best Public or Outdoor Installation
Venice, Italy Jaume Plensa: Together / Venice Art Biennale 2015 (Basilica di San Giorgio) / Venice, Italy
Best Design
New Territories: Laboratories for Design, Craft and Art in Latin America / The Museum of Arts and Design / NYC, USA
Best Photography
Light, Paper, Process: Reinventing Photography / The J. Paul Getty Museum / Los Angeles, USA
Best Fringe / Alternative
The Maboneng Township Art Experience: Turning their homes into art galleries / Johannesburg and Cape Town South Africa
About the GFAA Program:
The GFAA program honors innovation in design, historical context, educational value, and public appeal. The program's mission is to develop interest and passion for fine art, and further its educational role in society.
This award program recognizes and rewards the best fine art exhibitions and installations of the past year (Aug 1, 2014 – Jul 31, 2015). Eight awards are juried, and a ninth award, "Youniversal," is determined by public voting. The program consists of a digital platform, with videos, social media and website (http://www.globalfineartawards.org), and a live award ceremony in Miami on Monday, November 30, 2015.
The 68 nominees of the 2015 award program include exhibitions from 19 countries, 5 continents and 42 cities.