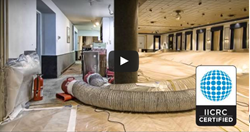 I like to think that we can play some role in helping people prevent these disasters.
Columbus, Ohio (PRWEB) November 28, 2015
Delaware OH water damage contractors Dry Patrol of Central Ohio offers timely, emergency water restoration services to home and business owners. The company offers flood damage cleanup throughout Columbus and outlying cities, among other remediation services. To assist homeowners in preventing this sort of damage, the Delaware Ohio water restoration contractors provide ongoing alerts and releases containing practical information that can be implemented immediately. Most recently, Dry Patrol of Central Ohio offers guidance on winterizing the home to prevent freezing and flooding damage.
President Bryan Daughtry comments, "Our aim is to be there for home and businesses owners should disaster strike, but as someone who has suffered from personal loss due to severe floods (before founding Dry Patrol of Central Ohio), I like to think that we can play some role in helping people prevent these disasters."
The Delaware Ohio emergency water services company offers the following tips:
Know where the water shut off is. Knowing where the water shut off is located can save time and aggravation should a household appliance go on the fritz. Surprisingly, many homeowners do not know where the water shut off resides.
Disconnect any hoses outside of the home. Leaving hoses on the spigot can cause water to freeze and back up the water source.
Clear gutters of all debris. Any debris in the gutters can freeze up and cause a backup, which can divert the flow and damage the structure of the roof and foundation. Ultimately, if left long enough, this could be cause for a flood inside the home.
Homeowners should always have the roof inspected before winter hits. As snow piles and ice forms, any loose shingles or other damage can be an invitation for further deterioration.
Caulk all doors and windows. Any leaks within the home offer an opportunity for the outside to enter in. Simple tasks such as caulking can save headaches down the road.
Daughtry adds, "While these tips are ideal for wintertime, one tip that truly resonates throughout the year is to check for corrosion or wear and tear on water supply lines for major appliances. If the water supply line for the washing machine looks sketchy, replace it now. Homeowners are shocked at just how much damage a faulty appliance within the home can cause."
For more information on winterizing the home to prevent flood damage or emergency water damage remediation, contact Dry Patrol of Central Columbus at 740-417-9006 or visit http://columbuswatermolddamagerepair.com/.
This press release was crafted and distributed by Green eSolutions. Green eSolutions is an internet marketing team of professionals with a passion for technology, design, brand awareness, and innovative strategies for reaching audiences throughout the country.