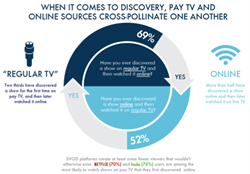 Boston, MA (PRWEB) December 01, 2015
Winning an audience for a new television show has never been easy. But these days, it's a more challenging—and important—task than ever. The volume of new original shows has skyrocketed. At the same time, the cost of programming continues to increase. The end result: show marketers have more clutter to cut through, with a greater investment riding on the success of each effort.
New findings from "Conquering Content", Hub's annual study on TV discovery, illustrate how important it is for TV providers to maintain a deep library of content, designed in a way that's easy to use.
The growing use of online TV sources has created an appetite for new programs:

TV viewers in general are twice as likely to say "I'm always on the lookout for new shows to watch" (29%) than to say "I'm happy with my current favorites" (15%).
The appetite for new shows is even stronger among online viewers. For those who use 2 or more online TV sources, 35% are always on the lookout, vs. 10% who are content with their current favorites.
At the other extreme are consumers who do not watch online TV at all: only 21% say they're always looking for new shows, while a higher 26% say they're happy with their TV show status quo.
With more shows to choose from, viewers can afford to be picky: a full 81% say that today, they spend more of their total TV time watching shows they really like than they have in the past.
The downside of the explosion of content: many consumers feel overwhelmed by options. More than ever, they're gravitating toward platforms with tools that make it easier to find shows they'll like:

51% say that there are so many shows to choose from that it's hard to know where to start (up from 42% in 2014)
57% say that they're more likely to choose TV sources that make it easy to find new shows (up from 48% last year)
62% of viewers say they want a universal listing to find shows across multiple platforms in one place (up from 60% in 2014)
Online TV episodes create live TV viewers who would otherwise never have existed:

More than half of consumers (52%) say they've first discovered a show from an online source, and then went on to watch the same show from traditional, non-online sources.
That percentage is dramatically higher among Netflix subscribers (70%) and Hulu subscribers (75%)
"With more and more quality shows available, TV viewers today feel like kids in a candy store," said Peter Fondulas, principal at Hub and one of the authors of the study. "But the problem is that this new candy store is enormous and not especially well organized. Yes, consumers are discovering more and more shows they like, but they feel like they're discovering them more by luck than by design."
"The call for universal, cross-platform discovery tools is something we've seen for years now," added Jon Giegengack of Hub. "If anything, with this new study that call appears to have grown even stronger. And when you combine that with greater frustration among consumers who are unsure where to even begin looking for new shows, it's fair to conclude that this idea of a universal listing has evolved from a wish to a need."
About this Research
"Conquering Content" is an annual tracking study from Hub Research. The 2015 survey included 1,200 US TV viewers with broadband, ages 16 to 74. An excerpt of the report is available as a free download from Hub Entertainment Research. The data was collected in October 2015.
About Hub Entertainment Research
Hub Entertainment Research is a market-research firm with deep expertise in television, movie, videogame, music, publishing, and sports—anywhere that entertainment and new technology overlap. Our work includes The Hub Reports: an annual series of 6 syndicated studies that track key behaviors of TV consumers, and enable decision-makers to anticipate the biggest risks and opportunities in a rapidly changing marketplace. For more information, please visit us at http://www.hubresearchllc.com.