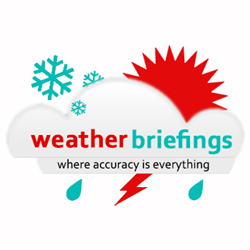 "I have hired Weather Briefings for the past several years" It is as if I have my own meteorologists on staff" Randy Brown = Randy Brown Landscaping
New York, NY (PRWEB) December 09, 2015
We spoke to the President of Weather Briefings, Inc. John Travers late today, Sunday, December 6, 2015 as he was pouring over the latest maps just sent to him by his Extreme Winter Weather Team. "Wow," Travers exclaimed just before the interview began, "Good thing we are putting this out before winter really gets underway."
Travers gave us a few highlights. "Our earlier thinking was in keeping with a more traditional El Nino year. We had expected less snow over much of the northern US and more active weather over the Great Lakes and Northeast, as well as the south - with ice storms." Travers pointed out that the earlier outlook was working out well, but that a shift in El Nino noted over the past week and the progression of storms over the western Pacific tending further south toward the West Coast have given us a new view of the way things will play out this Winter. The East Coast is likely to see an above average number of coastal storms or Nor'Easters. Also, the surprise storm over Michigan has provided a greater confidence that a wide swath of the Great Lakes, Ohio Valley and southern Ontario will see above normal snowfall. "These are just a few changes. Tune in Wednesday or Thursday for details related to your area specifically," Travers encouraged.
Bob Kucken, Vice President and Chief Meteorologist located in their Michigan Forecast Center, one of two, the other located in the heart of Manhattan, NY, shared another bit of big news for the snow and ice removal industry - a new website is being offered complimentary to businesses affected by winter weather. Kucken said that they will be launching a free website, http://www.winterstormoutlook.com, late Wednesday where there will be a 1-7 and 7-14 day look at active and potential winter storms. Kucken said, "Nowhere on the internet were we able to find a free site (or for that matter a paid site) where meteorologists presented an in-depth look at upcoming winter-storms. We will share a video, narrated by one of our winter storm experts looking at the storm tracks over the next 14 days and their impact (small to major) over the US and southern Canada and a text area highlighting key points to the maps on the video."
Mr. Kucken said that this site will be updated as often as needed and is available to everyone.
"Our goal, and strong belief is that this will become the most visited website during the winter months. We are confident that our services to our clients are the best on the market as we guarantee snow and ice forecasts, which no other private weather service does," he added. "We offer such personalized attention through our web-app and 24/7 access to our meteorologists that providing this critical 14 day weather information to the entire industry is a service which we are happy to offer." He said, "We believe that the snow and ice removal industry, their suppliers and other winter affected businesses will benefit greatly from this free information as it will be detailed enough to begin to make cost saving decisions for their operations.
Their senior meteorologists will be holding complimentary webinars on Wednesday, December 9 at 1PM and 7PM and December 10 at 10AM and 4 PM, Eastern Time. The live webinars can be seen at https://weatherbriefings.clickwebinar.com and will highlight the major changes forecasters are now predicting for this winter.