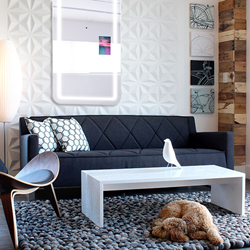 The Selfie Mirror is home decor tech: it take a true selfie of your life by capturing personal memories, keeps your family safe, shares your life with others while still being chic
San Francisco, California (PRWEB) December 01, 2015
Smart Ltd is pleased to announce the launch of its Indiegogo campaign to raise funds for the production phase of their new Hands-Free Selfie Mirror. The SELFIE MIRROR APP allows users to do a professional photo shoot at home. Changing a social profile picture daily is easy with the device. The goal of the campaign is $50,000.
"According to surveys, millions of people spend an average of 1.5 years of their lives looking at themselves in mirrors. By using the Smart Ltd. Product, this time will be spent with benefits. It provides an opportunity to take millions of awesome pictures. The mirror also provides security, as it has features for surveillance," claims Selfie Mirror CEO, Karina Shemyakina.
Silicon Valley marketing executive and Apple pioneer, Guy Kawasaki remarked, "This is a very fun idea. I might put one in my house."
The device has a built-in HD camera 16MP and a 2000 Lumen light.Selfie Mirror was engineered with the Android OS for better application compatibility. The video camera built into the Video Bloggers version has auto focus to make videos more professional-appearing than ever before possible. Also built into the Mirror is a hi-fi system can listen to the Internet radio or SoundCloud. The Bluetooth button makes the Selfie Mirror completely hands free. The MIRROR can make Skype calls and update Facebook and Twitter.
There are several additional features which are part of The SELFIE MIRROR. The built-in camera allows for two-way video surveillance with a motion sensor. The images are transmitted directly to the user's mobile device. The SELFIE MIRROR serves a Smart Home portal, controlling devices such as video door bells, lights, AC, security system and more.
There are dashboard options which allow the user to choose a business version or a personal one. The personal version permits quick access to the selfie app and the Smart Home management features. It also provides live info feed with weather, time, date and feeds to social networks. The business dashboard allows access to UBER, maps and TripAdvisor. It also has a selfie button, which permits real time advertising for the business. There are two USB ports to allow phones to be charged.
The Mirror Early Bird can be bought at a special price on Indiegogo for 160$ for the first 100 pieces instead of 500$!! There are 2 sizes available: small (27 x 31.5 inches) and large (27 by 47 inches). The mirror has Wi-Fi, Bluetooth and a SD slot.