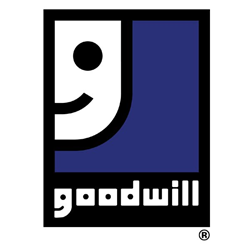 These socially conscious brands are forging a path to helping the planet by reducing waste while supporting Goodwill's mission
Rockville, MD (PRWEB) November 30, 2015
This Cyber Monday, Goodwill® and its partner brands are joining forces to provide online consumers with a new and convenient way to donate to Goodwill and create jobs in local communities across the United States. A new tool, Give Back Box, makes it possible to donate to Goodwill from the convenience of your own home. Consumers who shop online with Goodwill's brand partners: ASICS, Ann Taylor, Bon-Ton, Bergner's, Boston Store, Carson's, Elder-Beerman, Herberger's, Younkers, Dockers, Levi's, LOFT, Overstock.com, and Style Up Girl, can now reuse their shipping boxes, attach a pre-paid shipping label downloaded at http://www.goodwill.org/givebackbox and send clothing and household items they no longer need directly to Goodwill. This easy solution enables Goodwill to help people find work and strengthen their families, while promoting a healthier environment by keeping cardboard boxes used to ship online orders out of community landfills.
More than 10 million boxes are shipped daily from retailers to consumers. That rate is growing at approximately 17 percent per year according to UPS annual reports. During the holiday season, the number of boxes surges. Last year, FedEx delivered about 290 million shipments between Black Friday and Christmas Eve, and UPS delivered 585 million packages in December alone.
"These socially conscious brands are forging a path to helping the planet by reducing waste while supporting Goodwill's mission," said Jim Gibbons, president and CEO of Goodwill Industries International. "Thanks to our anchor brands, we expect additional corporate social retail leaders to recognize the opportunity to do good and demonstrate model citizenship. Give Back Box has made this unique opportunity possible by developing a platform that makes donating to Goodwill easy and efficient."
"I developed the Give Back Box as a tool for people to help their communities by giving back through retail partnerships and Goodwill," said Monika Wiela, founder of Give Back Box. "When consumers donate to Goodwill via Give Back Box, they are creating social change and inspiring people to become job creators."
For 113 years, Goodwill has been an environmental leader, turning the power of donated goods into job opportunities for people in need of work. Last year, Goodwill diverted more than 3 billion pounds of donated goods from landfills. To calculate the impact of donations, anyone can visit the Donation Impact Calculator at http://www.goodwill.org. To learn more about the Give Back Box, visit http://www.goodwill.org/givebackbox
ABOUT GOODWILL INDUSTRIES INTERNATIONAL
Goodwill Industries International is a network of 165 community-based member organizations in the United States and Canada with a presence in 13 other countries. Goodwill is one of America's 20 most inspiring companies (Forbes, 2014). Goodwill organizations are innovative and sustainable social enterprises that help fund skills development, job training programs, employment placement services and other community-based programs by selling donated clothing and household items in more than 3,000 stores and online at shopgoodwill.com®. Goodwill also keeps textiles and other goods out of landfills. Local Goodwill organizations also build revenue and create jobs by contracting with businesses and the government to provide a wide range of commercial services, including packaging and assembly, food services preparation, and document imaging and shredding. In 2014, more than 426,000 people in the United States and Canada used Goodwill's intensive one-on-one career services to prepare for employment. In addition, more than 24 million people used computers and mobile devices to access Goodwill education, training, mentoring and online learning services to strengthen their skills. To learn more, visit goodwill.org
To find a Goodwill location near you, use the online locator at Goodwill.org, use the Goodwill Locator app at goodwill.org/apps, or call (800) GOODWILL. Follow us on Twitter: @GoodwillIntl and @GoodwillCapHill, and find us on Facebook: GoodwillIntl.
ABOUT ASICS
Anima Sana In Corpore Sano, meaning "A Sound Mind in a Sound Body," is an old Latin phrase from which ASICS is derived and the fundamental platform on which the brand still stands. The company was founded more than 60 years ago by Kihachiro Onitsuka and is now a leading designer and manufacturer of performance athletic footwear, apparel and accessories. For more information, visit http://www.asics.com. Follow @ASICSamerica on Facebook, Twitter, Instagram and YouTube for exclusive content and real-time news around ASICS products, events, and elite athletes.
ABOUT THE BON-TON STORES, INC.
The Bon-Ton Stores, Inc., with corporate headquarters in York, Pennsylvania and Milwaukee, Wisconsin, operates 270 stores, which includes ten furniture galleries and four clearance centers, in 26 states in the Northeast, Midwest and upper Great Plains under the Bon-Ton, Bergner's, Boston Store, Carson's, Elder-Beerman, Herberger's and Younkers nameplates. The stores offer a broad assortment of national and private brand fashion apparel and accessories for women, men and children, as well as cosmetics and home furnishings. The Bon-Ton Stores, Inc. is an active and positive participant in the communities it serves.
For store locations and information visit http://www.bonton.com. Join the conversation and be inspired by following Bon-Ton on Facebook, Twitter, Instagram, Pinterest and the fashion, beauty and lifestyle blog, #LoveStyle.
ABOUT LEVI STRAUSS & CO.
Levi Strauss & Co. is one of the world's largest brand name apparel companies and a global leader in jeanswear. The company designs and markets jeans, casual wear and related accessories for men, women and children under the Levi's®, Dockers®, Signature by Levi Strauss & Co.TM, and Denizen® brands. Its products are sold in more than 110 countries worldwide through a combination of chain retailers, department stores, online sites, and a global footprint of approximately 2,700 retail stores and shop-in-shops. Levi Strauss & Co.'s reported fiscal 2014 net revenues were $4.8 billion. For more information, go to http://levistrauss.com.
ABOUT OVERSTOCK.COM
Overstock.com, Inc. is an online retailer based in Salt Lake City, Utah that sells a broad range of products at low prices, including furniture, rugs, bedding, electronics, clothing, and jewelry. Worldstock.com is dedicated to selling artisan-crafted products from around the world whereas Main Street Revolution small-scale entrepreneurs in the U.S. by providing them a national customer base. Overstock has additional community-focused initiatives such as a Farmers Market and pet adoptions. Forbes ranked Overstock in its list of the Top 100 Most Trustworthy Companies in 2014. Overstock sells internationally under the name O.co. Overstock (http://www.overstock.com and http://www.o.co) regularly posts information about the company and other related matters under Investor Relations on its website.