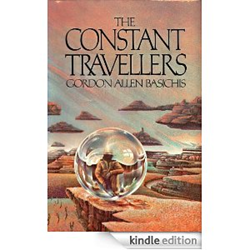 "The reprint of both these books should prove a nice complement to Gordon Basichis' new novel, The Cuban Quartet, which is due to be published in early 2016," said Minstrel's Alley Publisher, M.J. Hammond.
Los Angeles, CA (PRWEB) December 01, 2015
Minstrel's Ally has obtained the rights to reprint two of Gordon Basichis' earlier books, The Constant Travellers and Beautiful Bad Girl, the Vicki Morgan Story. The California based media group already owns the electronic rights to both books but now has exclusive publishing rights for the printed versions.
"We are thrilled to obtain the exclusive print rights for these two seminal books," said Minstrel's Alley Publisher, M.J. Hammond. "The Constant Travellers was originally published by G.P. Putnam's Sons," said Hammond. "And it broke new ground as a new kind of Western, replete with sex, drugs, and whole lot of humor, all taking place in the Cosmic West that never was. It was arguably one of the first books where the female protagonist was a gunfighter and played with traditional narratives by moving back and forth in time and space. Two major film studios bought the film rights, but unfortunately it languished in development hell.
"Beautiful Bad Girl, The Vicki Morgan Story, was originally published by Santa Barbara Press and is our perennial best seller," said Hammond. "Minstrel's Alley has sold it as an eBook for a number of years. It is a non-fiction work depicting the tempestuous and self-destructive relationship between department store scion and Ronald Reagan Kitchen Cabinet Member, Alfred Bloomingdale, and Vicki Morgan, his mistress of some thirteen years. No middle ground here.
"This is an amazing story, and the way Gordon Basichis tells it readers seems to love it or hate it," said Hammond. "It makes most books about bondage, domination, sado-masochism, or BDSM, and exotic sexuality seem like a kindergarten primer by comparison. This is an epic story of romantic obsession that ultimately killed both lovers."
Hammond noted that both books will be printed with their original covers. She pointed out that the cover for The Constant Travellers was originally painted by the legendary Hugo Award nominated fantasy and science fiction artist, Ron Walotsky.
"Ron Walotsky was just an amazing artist," said Hammond. "The painting for The Constant Travellers book cover is beyond unique. The original cover for Beautiful Bad Girl features a now iconic photo of Vicki Morgan that during the sex scandal and over the years has graced the covers of many publications. The story itself has been captured on a number of television specials. "It is amazing how that story continues to gather mythical status as it appeals to a newer and less sexually constrained generation of women while serving as a cautionary note about getting in over your head with the reach and powerful."
Hammond noted the books can be purchased on Amazon and through other venues and in the trade paperback version are on sale for $14.99.
"The reprint of both these books should prove a nice complement to Gordon Basichis' new novel, which is due to be published in early 2016," said Hammond. "The Cuban Quartert is an action adventure romantic thriller that spans the globe. Set initially in Cuba, this is a timely story that is colorful and sweeping. It is an old time adventure story with a new twist. "
Background: Minstrel's Alley is a Los Angeles based independent publisher that seeks to bring adventure back into the publishing industry by publishing books that have popular appeal but with more complexity than the standard mainstream fare. The new publishing group distributes its books through Amazon, Kindle, and assorted Internet outlets as well as through bookstores around the country. You can view Minstrel's Alley at http://www.minstrelsalley.com