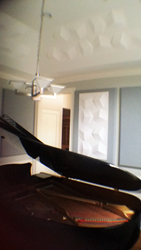 "Musicians need a place to get away from the buzz of L.A. and New York - they're looking for a peaceful space, and a studio with perfect acoustics – this home is exactly that kind of place."
Charlotte, N.C. (PRWEB) November 30, 2015
Specialty acoustics contractor, Performance Acoustics, today announced the completion of a custom acoustical install for a 1,500-square-foot, in-home music studio space as a part of a $1M renovation of SMH Records' 4,000-square-foot retreat home. The lakefront residence is available to the label's recording artists as well as individual artists seeking a private retreat space to record new music and spend time with family and friends. The project is the brainchild of label co-founder Michael Smith.
"Musicians need a place to get away from the buzz of L.A. and New York," said SMH Records Chief Operating Officer Brian Gaskill. "They're looking for a peaceful space, and a studio with perfect acoustics – this home is exactly that kind of place."
The lakeside residence, located outside of Charlotte, North Carolina, features five bedrooms, expansive communal spaces and a custom-engineered, 1,500-square-foot recording space that includes a live room, state-of-the-art engineering and mixing room, as well as a downstairs piano room.
The music studio's acoustical engineering was completed for SMH by Scott Rhodes and Steve Floyd of Performance Acoustics out of Charlotte. Performance Acoustics, in partnership with Jeff Hedback of HdAcoustics, created a 3D, acoustical model of the studio, assessed the requirements and crafted a custom-tailored acoustical design for the space. The team then executed on designs, and installed custom, 3-inch-thick site-fabricated acoustical panels and custom diffuser panels. The team also strategically employed bass traps and diffusion panels from GIK Acoustics.
"We needed acoustical designs and implementation in just three weeks," remarked Gaskill. "Performance Acoustics executed quickly and effectively allowing us to open to artists right on schedule, and our musicians are already raving about the sound – the acoustics are absolutely perfect."
About Performance Acoustics:
Performance Acoustics provides turnkey acoustical solutions, from consultation and product selection to final installation. The Performance Acoustics team approaches each engagement with a focus on aesthetics, functionality, cost and sound engineering. Specialties include architectural acoustics, commercial and residential soundproofing, and industrial acoustics. To learn more, visit http://www.Performance-Acoustics.com.