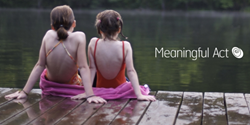 Together, we can develop and build an inspiring online community to encourage, support, and spread expressions of gratitude.
San Francsico, CA (PRWEB) December 01, 2015
This Giving Tuesday is the perfect time to consider the crowdfunding campaign for Meaningful Act.com. Meaningful Act is raising funds to complete a community where people will create free online tributes for the people in their lives they want to express gratitude for.
Meaningful Act has social media like features, but is not a typical social network. Features include:

The ability for members to engage a distinct circle of friends, relatives, and associates invited by them or the people they want to appreciate. Members won't ever feel the need or pressure to "friend" someone just because they went to high school with them.
An immersive experience like a great lecture, good book, or deep conversation with a friend -Slow social media.
Enhanced privacy options and security giving members complete control of privacy and sharing – they'll share gratitude(s) with only those they want to share with, when they want to share them.
Access via computer and mobile devices.
Free and low cost subscription options.
"I spent five years working in a residential hospice. I saw moments of beauty, grace and honesty that I carry with me everyday; I have watched the clouds of regret pass over many pairs of eyes.  I learned not to leave things unsaid and to say goodbye and mean it. I learned that there is still time... until there isn't. And I realized: we need a space for this. Before the emergency surgery or the retirement, the graduation or the remission, we need a space to let those people in our lives know: You Affected Me." said Meaningful Act founder Kate Sadowsky.
Meaningful Act is the perfect platform for people who have a desire to express appreciation to a friend, colleague, mentor or other loved one but who is uncomfortable doing so in-person or on the phone.
The INDIEGOGO crowdfunding campaign runs through December 22nd. That capital in addition to partner contributions will enable the Meaningful Act team to offer members full functionality at launch.
If you believe in gratitude and appreciation, you already believe in Meaningful Act. This Giving Tuesday, give the gift of gratitude by contributing to this project. Every size of contribution will help, and the team will also consider additional partners on a case by case basis.
#givingtuesday