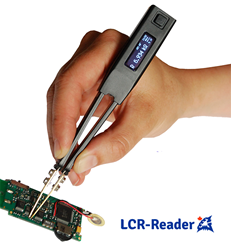 Starting midnight on Monday November 30th, Smart Tweezers and LCR-Reader multimeters, and the new Smart LED Test Tweezers are on sale from Siborg Systems inc.
(PRWEB) November 30, 2015
Siborg Systems Inc. will be offering sales prices for its multimeter product line including Smart LED Test Tweezers, LCR-Reader and Smart Tweezers LCR-meters Cyber Monday, starting at midnight on Monday, November 30th, 2015 and will end at 11:59 EST. The sale will be offered on Smart Tweezers websites, LCR-Reader websites and Siborg's Amazon sales channels.
LCR-Reader and Smart Tweezers have become a popular alternative to conventional multimeters since the Smart Tweezers introduction in the early 2000's. They offer users an easy-to-use device with no set-up between measurements.
The latest new product Smart LED Test Tweezers provides an LED test capability as well as a conventional multimeter capabilities when connected to any regular multimeter. When the LED Test Tweezers is connected to a digital multimeter via provided pair of cables it effectively becomes a Tweezer multimeter with the same functionality as the connected multimeter.
Smart Tweezers and LCR-Reader are the combination of a set of gold-plated tweezer tips and a lightweight LCR-meter in a pen sized device. The tweezers are able to grasp and hold any size component, either mounted or loose; when in contact, the device will automatically determine the type of component, best test range and measure accordingly for L, C, R and secondary values like ESR. The results are instantly displayed on the OLED screen.
LCR-Reader is a more affordable option. This model retails for less than $200, a feat that was made possible by omitting features such as component sorting, offset subtraction and continuity and diode testing. Siborg has recently sent 4 randomly selected LCR-Readers to a leading calibration house in Canada, Navair Technologies, to determine the LCR-Reader's overall accuracy. Their results showed that the devices' accuracy was closer to 0.5%, rather than the 1% previously believed.
LCR-Reader Features:
-Automatic L, C, R and ESR measurements
-Automatic best range selection
-0.5 to 1% basic accuracy
-1 oz. weight
Smart Tweezers are a higher quality device that is currently used by many major high tech companies worldwide. This model offers a higher basic accuracy of 0.2% and more features. The current model, the ST-5S, offers more customization for specific measurements, including offset subtractions, manual mode selections, and the ability to rotate the display. This model also comes with a traceable NIST calibration certificate, which is required in order to stay ISO compliant.
Features on ST-5S:
-Automatic and manual L, C, R and ESR measurements
-0.2% Basic accuracy
-Component sorting with 1, 5, 10, and 20% tolerances
-Continuity and Diode testing
-Semi-automatic offset subtraction
-NIST traceable calibration certificate
-1oz. weight.
Both LCR-Reader and Smart Tweezers are powered by a Li-Ion battery with micro-USB connection; and come with a hard travel case to protect the device in bags or pockets.
The Cyber Monday sale of LCR-Reader and Smart Tweezers begins at 12:00AM on Monday, November 30th, 2015, and ends at 11:59PM EST. Be sure to visit Siborg's Smart Tweezers websites and Amazon channels to take advantage of this deal.
All the latest developments are covered at Smart Tweezers and LCR-Reader blog sites.
For more information:
Siborg Systems Inc.
24 Combermere Crescent
Waterloo, Ontario
Canada
N2L 5B1
Phone: 1-519-888-9906
Fax: 1-519-725-9522
web: http://www.siborg.com