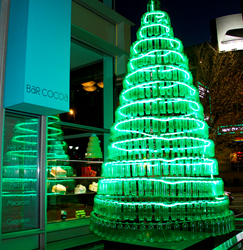 Holiday tree of 789 recycled bottles
CHARLOTTE, NC (PRWEB) December 01, 2015
The edible, larger-than-life holiday décor experience at The Ritz-Carlton, Charlotte has grown larger and debuted earlier this year, and the photogenic winter wonderland is now bedazzling the hotel Lobby.
The walkable viewing experience is open to the public for a six-week run and features the world's largest croquembouche pastry tree standing more than eight feet in height; three larger-than-life holiday trees each crafted of several thousand hand-made macarons; a whimsical 10-foot tall gingerbread house with its own electric train and photo spot; two glistening, eight-foot-tall upside-down trees suspended from the Lobby ceiling; and the pièce de résistance -- a 17-foot sustainable holiday tree constructed completely of recycled green plastic soft drink bottles: 789 of them, to be exact.
Guests are invited to bring their cameras and share the following visual #RC Memories @RitzCarlton #Charlotte:
1. A dramatic, hand-sculpted dessert showpiece, created as a chocolate Santa's Sleigh led by four giant Chocolate Reindeer, welcoming arrivals to the Lobby. The sleigh serves as a drop-off point for guests wishing to leave teddy bears to be donated to the city's Levine Children's Hospital.
2. A picturesque, life-size Gingerbread House, featuring throwback cottage design, 12 feet in width, with its own 10-foot-high clock tower and an adjoining cottage garden surrounded by an operating electric train.
3. Two sparkling blue, silver and white holiday tinsel trees, eight feet high and suspended upside down from the Lobby ceiling, creating their own light show directly around and beneath them.
4. Two re-imagined and added new versions of the hotel's historic 8,000 macaron holiday tree – now encompassing three giant culinary masterpieces requiring a cumulative 170-hour assembly marathon by the hotel's pastry team. This year's trees present vibrant colors of the sweetly fragrant hand-crafted macarons used in their groundbreaking construction.
5. The world's largest croquembouche tree, eight feet in height and featuring 1,700 French profiteroles as its delectable building blocks. The European-inspired croquembouche is made with choux pastry balls shaped into a tree formation and then ringed with sweet caramel. The Ritz-Carlton, Charlotte holiday croquembouche is noteworthy not only for its record-setting size, but also for the gingerbread and pastillage ornaments and crystal sugar beads garnishing its fragrant exterior.
6. Upon departure from the Lobby, guests can marvel at the ultimate tribute to sustainability, located directly outside the hotel's Bar Cocoa dessert boutique. Here, an environmentally-friendly holiday tree soars 17 feet toward the sky, constructed of 789 recycled green plastic bottles. The LEED® Gold-certified Ritz-Carlton, Charlotte is the city's first such eco-designated property, and the recycled bottle tree represents both a fond farewell to those enjoying the hotel's holiday viewing experience and a sincere salute to the treasured surrounding environment.
Access to The Ritz-Carlton, Charlotte holiday décor extravaganza is offered via the hotel Lobby front entrance, located at 201 East Trade Street. Guests complete their tour via the side doors on College Street, as they enter onto the impressive outdoor site of the recycled bottle holiday tree. The complimentary public visits are offered between 9 a.m. and 6 p.m. daily, continuing through December 27, 2015.
The viewing experience is also complemented by several special culinary events at The Ritz-Carlton, Charlotte, including its popular Holiday Afternoon Tea series, presented between 10:30 a.m. and 2:00 p.m. on November 28 and 29, and December 5, 6, 12, 13, 19 and 20. Additionally, holiday sweets cooking classes will be offered at Bar Cocoa's Cocoa Lab kitchen/cooking studio on December 13, 17, 18 and 20.
The AAA Five-Diamond Ritz-Carlton, Charlotte is located at 201 East Trade Street, at the corner of Trade and College Streets, in the heart of Charlotte, North Carolina. For further information, visit http://www.ritzcarlton.com/charlotte or call the hotel directly at 704-547-2244. For room reservations, visit the hotel website, call 1-800-241-3333, or contact a travel professional.