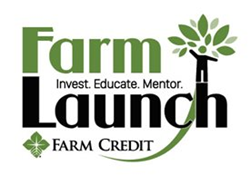 Through FarmLaunch, we not only provide access to capital, but offer mentors to partner with the participant, offering guidance and advice to help them be successful - Farm Credit of the Virginias' Knowledge Center Director, Matt Lohr
(PRWEB) December 01, 2015
Farm Credit of the Virginias is pleased to announce a new loan program, FarmLaunch. FarmLaunch has been designed to provide startup funding for beginning, small and veteran farmers that may not currently qualify for traditional financing.
While interest in getting started in agriculture is growing, many beginning farmers lack sufficient startup capital, educational tools, and trusted mentors needed to launch their operations. The FarmLaunch program aims to serve those needs in one easy-to-use program. "Through FarmLaunch, we not only provide access to capital, but offer mentors to partner with the participant, offering guidance and advice to help them be successful," remarked Matt Lohr, Farm Credit of the Virginias' Knowledge Center Director.
Farm Credit anticipates that FarmLaunch will be helpful to small and beginning farmers as well as veterans and minorities who are interested in entering production agriculture. "We want to make them aware of the services and opportunities that Farm Credit offers to help them succeed," Lohr added.
Farm Credit continually looks for ways to better serve all its customers, especially beginning, small, veteran and minority producers. The Knowledge Center program, a unique program created two years ago, shares knowledge and resources with all those interested in agriculture. The new FarmLaunch program demonstrates Farm Credit's commitment to the next generation of agricultural leaders and providers.
"For nearly 100 years, Farm Credit has been the lender of choice in the agricultural industry. As our industry changes, we must be willing to innovate and develop new opportunities to help ensure the success of the next generation of farmers. FarmLaunch is a tremendous opportunity for beginning and small producers to enter into agriculture and develop their operations into a successful and thriving business for generations to come," Lohr said.
For specific questions on the FarmLaunch program, please contact Matt Lohr: 540.514.1911
Farm Credit of the Virginias provides more than $1.5 billion dollars in financing to more than 10,000 farmers, agribusinesses and rural homeowners throughout Virginia, West Virginia and western Maryland. Farm Credit is a cooperative capitalized largely through investments made by farmers, ranchers and the rural homeowners and agribusinesses that borrow from them. Farm Credit helps maintain and improve the quality of life in rural America and on the farm through its constant commitment to competitive lending and expert financial services. For more information, visit http://www.FarmCreditKnowledgeCenter.com or http://www.FarmCreditofVirginias.com