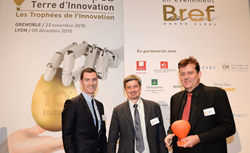 This distinction confirms the recognition from an entire ecosystem for the innovative aspect of our high performance MEMS inertial sensors
Grenoble, France and Dallas, TX, USA (PRWEB) November 30, 2015
Tronics, a designer and manufacturer of innovative nano and microsystems, won the Industrial Innovation of the Year award, during the 2015 BREF Rhone-Alpes Trophies ceremony held on 23 November 2015 in Grenoble. This prize rewards Tronics' high performance MEMS inertial sensors GYPRO® for all the benefits it brings to fast-growing markets with high added value.
Issued from standardized technology platforms, Tronics' standard product range GYPRO® features performance, size and power consumption specifications in response to the increasing demand from system integrators for highly stable and high-performance inertial sensors. Combining all key advantages on one single chip, these MEMS inertial units exhibit significant value and differentiation at worldwide level for markets such as Avionics, Drones, Security, Oil & Gas, Marine and Autonomous Vehicles.
Resulting from a strategy of development resolutely focused on key partnerships with an innovative approach, Tronics aims to pursue this momentum with its new standard product range GYPRO3300. These MEMS inertial sensors from the GYPRO® family offer significant technology improvements and already show a strong attractiveness with several customers and prospects.
"We are pleased to have been rewarded for all the achievements we made on our standard product range GYPRO®", said Pascal Langlois, Chief Executive Officer of Tronics. "This distinction confirms the recognition from an entire ecosystem for the innovative aspect of our high performance MEMS inertial sensors, and testifies to the potential and the relevancy of our strategy to offer an efficient and sustainable answer to fast-growing markets with high added value".