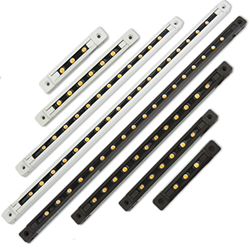 . . . absolutely impervious to the worst that Mother Nature can deliver.
Tampa, Florida (PRWEB) December 01, 2015
VOLT® Lighting, leading factory-direct manufacturer of lighting products, announced the introduction of a line of LED Hardscape Lights designed for professional-quality outdoor installations. In addition to adding a number of improvements to the products, the company offers them at factory-direct prices – far lower than competitive brands.
Typical applications of hardscape lights include mounting under capstones in retaining walls and columns. They are also used under counters in outdoor kitchens or under benches on decks and gazebos. These lights can also be found under stair railings and stair treads.
VOLT® LED Hardscape Lights are of a type called "linear LED fixtures" because they feature a single row of LED chips housed in a long narrow housing. Several manufacturers produce this type of fixture, but VOLT claims to have made several improvements to the typical design.
Michael Breedlove, VOLT® Director of Innovation & Manufacturing, describes these improvements, "The biggest complaint with linear LED fixtures is that they tend to produce uneven illumination afflicted with hot spots (overly bright regions). Imagine a row of six lit candles spaced 6 inches apart. Move your hand (in a single motion) over all the candles. As your hand passes over each flame, you feel the extreme heat. This is exactly what happens with most linear LED lights. Each LED produces an extremely bright (hot) region so the illumination is very uneven – unacceptably so."
Breedlove continues, "The solution is simple, select reduced-output LEDs with a wide even distribution and position them as close together as possible. The result is a linear light that can be positioned fairly close to a surface and still produce a uniform region of illumination – no hot spots."
The company cites other improvements implemented in the new fixtures. The LEDs themselves are manufactured by Cree® to comply with strict specifications of color consistency. These specifications ensure that the row of LEDs is near-exactly the same high-quality color. Variations in color along linear LED fixtures are commonly seen and (according to company experts) never acceptable.
Breedlove goes on to describe other features and benefits of the new products, "Since LED Hardscape Lights are meant to be installed in very tight places, they must be designed for ease of installation. Many hardscape lights from other manufacturers are difficult to install. Some use cumbersome brackets, others must be glued or cemented in place. We designed our lights so they can be easily mounting on vertical or horizontal surfaces. Or, they can be attached to a bracket that slips under a capstone. Regardless of the mounting orientation, the fixture can be quickly removed for cleaning or servicing."
Breedlove continues, "I could go on for hours talking about the design decisions that went into these lights, but I'll mention just one more feature – the actual construction of the fixtures. Since LED chips and driver components are sensitive to moisture, we completely sealed them in a transparent epoxy. These fixtures are absolutely impervious to the worst that Mother Nature can deliver. That's why we feel confidant giving them a lifetime warranty."
VOLT® Lighting's LED Hardscape Lights are only available through the company website at http://www.voltlighting.com.
About VOLT Lighting
VOLT® Lighting is a factory-direct supplier of high-quality, low-cost indoor and outdoor lighting products and systems. For more information call 813-978-3700 or email customersupport(at)voltlighting(dot)com.