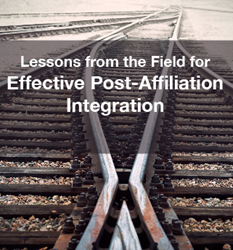 …it's important to understand there is no precise formulary for a successful integration; it cannot be approached in a 'one-size-fits-all' fashion
Knoxville, TN (PRWEB) December 01, 2015
PYA's latest white paper, "PYA Leadership Briefing: Lessons from the Field for Effective Post-Affiliation Integration," addresses a main "pain point" for merging or aligning healthcare provider organizations—when mergers and other affiliation strategies fail to deliver the anticipated results, once a deal is signed. This quick-read guidance suggests that failing to recognize the power of an effective integration and implementation strategy often contributes to that disappointment.
The briefing shares lessons learned from PYA's work with healthcare provider organizations that are striving to realize effective, successful mergers and affiliations. It outlines important considerations, such as cultural differences; explores common pitfalls, with tips and tricks for navigating those pitfalls; and offers actionable measures that start with senior and physician leadership.
According to the paper, "…it's important to understand there is no precise formulary for a successful integration; it cannot be approached in a 'one-size-fits-all' fashion." With this in mind, the paper touts the importance of "implementing a plan that recognizes the unique cultures of the affiliating organizations, and adapting the methodologies employed to the stakeholders, leadership, physicians, and communities served."
With extensive expertise in the realm of affiliation solutions and the healthcare industry as a whole, PYA understands the complexities of the often-arduous process of aligning healthcare organizations. From pre-transaction advisory to post-transaction implementation and execution, PYA's team leverages more than 30 years of experience to help healthcare provider organizations successfully realize the promise of new affiliations. PYA's dedicated transaction professionals work with organizations to develop the most appropriate mergers and acquisitions or affiliation strategies based on each organization's strategic goals.
In addition to this latest white paper, PYA has released previous guidance related to affiliations including: "Navigating the Complexity of Nonprofit Transaction Approvals," "Hospital Network Alliances: Independence Through Interdependence," and "From Zero to CIN in Less Than Nine Months." In addition, PYA is the exclusive healthcare certified partner of PivotPoint Business Solutions to offer The Change Diagnostic Index© change management tool to gauge the risk of change to individuals in an organization.
About PYA
For over three decades, Pershing Yoakley & Associates (PYA), a national healthcare consulting firm, has helped clients navigate and derive value amid complex challenges related to regulatory compliance, mergers and acquisitions, governance, business valuations and fair market value assessments, multi-unit business and clinical integrations, best practices, tax and assurance, business analysis, and operations optimization.
PYA's steadfast commitment to an unwavering client-centric culture has served the firm's clients well. PYA is now ranked by Modern Healthcare as the nation's 9th largest privately owned healthcare consulting firm. PYA affiliate companies offer clients world-class data analytics, professional real estate development and advisory resources for healthcare providers, self-insured employer health insurance claims audits for Fortune 500 companies, wealth management and retirement plan administration, and business transitions consulting.
For more information, please visit http://www.pyapc.com/