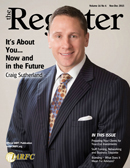 Our focus this year is to capture the interest of the younger professionals and to draw support for our significant move towards accreditation... H. Stephen Bailey, IARFC Chairman
Middletown, OH (PRWEB) November 30, 2015
Being a published author, especially in a professional industry related magazine is an excellent way for consultants to gain credibility and respect in their prospective field. The Register has been the primary link between the IARFC and its members, prospects and corporate sponsors for over 16 years. Articles from many of the founding organizers of the financial services industry have appeared within its covers.
"2016 will be an exciting year for the IARFC due to our roll-out of the Master Registered Financial Consultant (MRFC) exam," states editor-in-chief Wendy Kennedy. "We hope the continual coverage of this accreditation journey plus the relevant themes of each edition will educate and inspire our readers."
The Themes on tap for 2016 are: Introduction to the MRFC Exam, Marketing and Engaging the Millennial Client and Consultant, Helping Couples to Build Wealth, the Importance of the Financial Planning Process and Complete Coverage of our Financial Plan Competition. Each of these themes can address the seasoned professional as well as someone new to financial practice. The Register also includes articles written for the consumer which can be used by the RFC® in communications to clients, prospects and local media.
"We look to our publication as a significant benefit to our members," said H. Stephen Bailey, IARFC Chairman. "Our focus this year is to capture the interest of the younger professionals and to draw support for our significant move towards accreditation."
There are other ways for you to be published within the Register. The Register Round Up column solicits short answers to specific questions and In the News section prints specific happenings to the Association's members.
For those who are wishing to submit articles please download a copy of the calendar from the IARFC and follow the submission guidelines and deadlines. The current issue of the Register can be read online at http://www.iarfc.org.