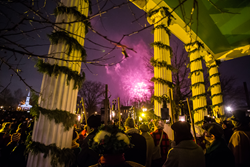 Dearborn, Mich. (PRWEB) November 30, 2015
Traditions have to start somewhere, but exactly when did it become a tradition to decorate for the season, gather with friends and family to exchange presents, sing Christmas carols and prepare favorite dishes? Gain inspiration for today's traditions from those of Christmas past this season during Holiday Nights in Greenfield Village, Dec. 4-6, 11-13, 17-23 and 26-28 from 6:30 pm – 10 pm. Voted a top ten family holiday destination by USA Today and Reader's Digest, tickets are going fast for this authentic and immersive holiday celebration.
Visitors can experience over 300 years of holiday history as they stroll through a lantern-lit Greenfield Village. Learn how traditions have evolved to those we still celebrate today, including the origins of drinking hot chocolate at the Giddings Family Home during the mid-1700s, popular stocking stuffers at the J.R. Jones General Store, to the early days of Christmas first being recognized as a national holiday inside Ford home, Edison Homestead and Sarah Jordan's Boarding House. Take home a bit of inspiration for your own holiday meals after watching holiday recipes come to life during the cooking demonstrations inside our historic kitchens.
New this year, guests can step inside the Miller School and write a letter to Santa before mailing it off to the North Pole at the Phoenixville Post Office or even make their own cardboard gingerbread house that can be used as a perfect container for Santa's cookies. Train enthusiasts will also experience a bigger display this year inside the Village Pavilion featuring trains from both the Glancy Trains Model Railroad Club and the Michigan LEGO Users Group. For the end of the evening, join Santa as he makes his way in a Model T to Town Hall for the fireworks finale accompanied by a sing-along of familiar holiday tunes.
Grab a pair of loaner skates or lace up your own and take a turn or two on the Village's ice skating rink. Listen to a wide variety of live traditional holiday tunes echo through the air with performances by the Dodworth Saxhorn Band, the 1st Michigan Colonial Fife & Drum Corps, and Victorian-era carolers. Don't forget to visit the Robert Frost home to see Santa and his reindeer. Smell and taste the historically-inspired treats of the season. Food stations will feature hot chocolate and hot apple cider, roasted chestnuts and a roast beef carving station. For those looking to do some holiday shopping there will be plenty of options including the The Henry Ford's own Liberty Craftworks glass and pottery collection, historic toys at the Main Street Emporium and an ornament shop located on Main Street.
Holiday Nights in Greenfield Village is presented by Meijer and sponsored by Citizens Bank and Ford Motor Company Fund. Cooking demonstrations taking place inside the Village homes are sponsored by Meijer. Ticket prices are $20.50 for adult members and $15.25 for youth members, $24 for adult non-members and $18 for youth non-members. Children four and under are free. To purchase tickets, call (313) 982-6001 or visit http://www.thehenryford.org.
About The Henry Ford:
The Henry Ford in Dearborn, Michigan is an internationally-recognized cultural destination that brings the past forward by immersing visitors in the stories of ingenuity, resourcefulness and innovation that helped shape America. A national historic landmark with an unparalleled collection of artifacts from 300 years of American history, The Henry Ford is a force for sparking curiosity and inspiring tomorrow's innovators. More than 1.6 million visitors annually experience its five attractions: Henry Ford Museum, Greenfield Village, The Ford Rouge Factory Tour, The Benson Ford Research Center and The Henry Ford IMAX Theatre. A continually expanding array of content available online provides anytime, anywhere access. The Henry Ford is also home to Henry Ford Academy, a public charter high school which educates 485 students a year on the institution's campus. In 2014, The Henry Ford premiered its first-ever national television series, The Henry Ford's Innovation Nation, showcasing present-day change-makers and The Henry Ford's artifacts and unique visitor experiences. Hosted by news correspondent and humorist, Mo Rocca, this Emmy®-winning weekly half-hour show airs Saturday mornings on CBS. For more information please visit our website thehenryford.org.
###