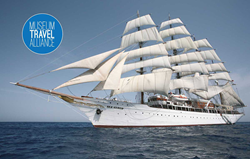 This is an innovative and much-needed partnership model for museum travel programs, and it will be a great benefit to many institutions
New York, NY (PRWEB) December 01, 2015
The Museum Travel Alliance was created to expand cultural travel opportunities for small groups of museum members, who will participate in tours with like-minded travelers affiliated with institutions participating in the consortium. Each trip will be led by a curator or scholar capable of offering unique insights, and the tours will feature special access to cultural sites that are not available to individual travelers.
In 2016, the roster of tours offered by the Museum Travel Alliance includes 15 trips with itineraries that feature: a river cruise along the Lower Danube, taking in Vienna's art and architectural treasures and medieval Balkan churches; sailing the Baltic's Amber Coast from St. Petersburg to Copenhagen during the "white nights" of midsummer; and a New Year's excursion to Egypt and Jordan by private plane. An additional seven travel opportunities for 2017 were also announced today.
The initial group of 19 Founding Member institutions in the Alliance includes:
Amelia Island Museum of History (Fernandina Beach, FL)
American Folk Art Museum (New York, NY)
Anniston Museum (Anniston, AL)
Appleton Museum of Art (College of Central Florida) (Ocala, FL)
Artis-Naples, Friends of Art at the Baker Museum (Naples, FL)
Arts & Heritage, St. Albert (Alberta, Canada)
Bullock Texas State History Museum (Austin, TX)
The Drawing Center (New York, NY)
Samuel P. Harn Museum of Art (University of Florida) (Gainesville, FL)
Hermann-Grima & Gallier Historic Houses (New Orleans, LA)
Japan Society (New York, NY)
Katonah Art Museum (New York, NY)
The Metropolitan Museum of Art (New York, NY)
The Museum of Fine Arts, Houston (Houston, TX)
The Nelson-Atkins Museum of Art (Kansas City, MO)
North Carolina Museum of Art (Raleigh, NC)
The Phillips Collection (Washington, DC)
Sir John Soane's Museum Foundation (New York, NY / London, UK)
Toledo Museum of Art (Toledo, OH)
The Museum Travel Alliance will continue to accept applications through the end of 2015 from museums interested in becoming Founding Members.
"While all museums have something to gain by participating, it's a particularly good opportunity for smaller and mid-sized museums," said Todd Michael Galitz, President of the Museum Travel Alliance. "It gives these museums a risk-free way to launch or expand travel programs benefitting their individual members at no cost to the institution."
"This is an innovative and much-needed partnership model for museum travel programs, and it will be a great benefit to many institutions," said Julián Zugazagoitia, Director of The Nelson-Atkins Museum of Art. "I especially like the flexibility in the program design and the richness of the destinations; patrons will love to travel and meet other like-minded art enthusiasts."
Museum Travel Alliance (MTA) is a consortium of museums whose patrons and members are passionate about cultural travel. MTA offers its constituents a broad selection of curated, luxury travel opportunities and behind-the-scenes access to the world's cultural treasures led by renowned scholars and curators.