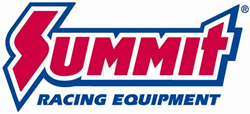 Tallmadge, OH (PRWEB) December 30, 2015
Summit Racing now offers Holley Dominator Sportsman Carburetors, a more affordable Dominator perfect for high-horsepower street machines and bracket racing.
The Dominator Sportsman (SP) Carburetors are based on the Gen 3 Ultra Dominator aluminum main body. The main body is 5/16 inch taller than the previous model, allowing Holley engineers to use large-radius air entries that smooth out airflow into the carburetor. That improves throttle response and produces a more consistent air/fuel mixture.
Available in 1,050 and 1,150 cfm versions, the Dominator SP Carburetors have been dyno and track tested to perform on modern pump gasoline and race fuels.
Dominator SP Features

All-aluminum construction saves 3.8 pounds over original models
Fully CNC machined from venturi throat to throttle bore for predictable performance
Billet metering blocks with replaceable power valve channel restrictors, intermediate restrictors, and idle feed restrictors
Annular boosters deliver excellent signal and throttle response
Screw-in air bleeds for precise tuning
Dual 50cc accelerator pumps provide the perfect amount of fuel from idle to full throttle
4-corner idle allows precise control of idle system
Knurled primary and secondary curb idle screws—easy idle adjustment without tools
Contoured hex head squirter screws for streamlined airflow
Progressive secondary link installed for perfect off-the-line launches
• No linkage parts under the carburetor (1:1 wire link included)

Clear sight windows on fuel bowls for easy fuel level adjustments
Notched float and jet extensions
5/8-18 inch fuel inlet threads accept a large variety of fuel line plumbing options
Throttle position sensor mounting points for use with data acquisition systems
Extended air cleaner flange for easy air scoop attachment when used with scoop adapter
Wet-flow tested to assure carburetor arrives ready to run
Summit Racing Equipment
http://www.SummitRacing.com
1-800-230-3030