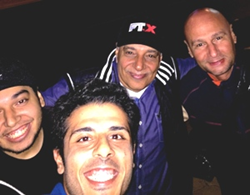 "We have confidence in how easy it is to install the FTX video screen, but we were elated that someone who never worked on a digital board could accomplish an installation on schedule without any problems"
Atlanta, GA (PRWEB) December 01, 2015
Formetco expands their international reach in Africa from Nigeria to Egypt. Working with its regional dealer Arab American for Decoration and Elsewedy Electric there is a Formetco LED screen atop the modern automotive office building owned by the Ghabbour Group, and located in Cairo.
A local network of smart business people
Arab American for Decoration partnered with Elsewedy Electric to provide a turnkey project for the Ghabbour Group. The Ghabbour Group had a vision of a bright LED display serving as a crown upon their main building. Omar Hazem, project manager for the Ghabbour Group, developed a team, to research the manufacturer with the best LED display design for their climate and visual needs.
Mr. Hazem worked closely with Mamdouh ElShafy of Arab American for Decoration and Amr ElDarawy of Elsewedy Electric to plan the project. After the team completed their research they selected Formetco as the LED billboard manufacturer of choice. Formetco was recognized as having a design with unique features that are ideal for the climate extremes in Egypt.
About the LED display and project
The desired visual impact was achieved by building an LED video screen measuring 21' by 47', with 987 square feet near high definition imagery. The Formetco product was chosen for features including low maintenance needs, high energy efficiency, durability in harsh temperatures and a solid warranty. Specifically, having a product with sealed modules is ideal for desert environments and allows for worry free pressure washing.
Arab American for Decoration sent Hussein Ismail to Formetco for two weeks of training on product installation and routine maintenance. Mr. Ismail returned to Egypt and then trained other people to complete the work. With Formetco training, and remote support via email and phone, the installation was completed in only two days. John Gibb, Formetco's Vice President of International Sales, commented, "We have confidence in how easy it is to install the FTX video screen, but we were elated that someone who never worked on a digital board, and that we had not given direct training could accomplish an installation on schedule without any problems".
Upon completion of the project the team was congratulated on their exceptional work. Mr. Hazem was especially pleased and commented, "The FTX display has turned our building into a giant HD outdoor cinema. The quality of the static images and video is the best in all of Egypt. The colors are brilliant."
About Arab American for Decoration
Arab American for Decoration is a dealer for Formetco, and located in Cairo. The company offers the region Formetco's full product lines including Cree LED billboard lights, tri-face billboards and LED billboard and video scoreboard systems.
About Formetco
Formetco is a leading US based manufacturer of LED scoreboards and video display screens. Formetco Sports is a business unit that has completed projects ranging from the large high resolution indoor LED Video Screens at the Atlanta College Hall of Fame, to municipal outdoor LED screens for educational institutions.