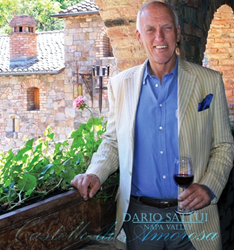 Calistoga, CA (PRWEB) November 30, 2015
Castello di Amorosa announces a way to visit, which will be the stocking stuffer of a lifetime for the right wine-lover.
"We hope to have exceeded the wildest dreams of a lucky wine aficionado," said President Georg Salzner. "We've meticulously assembled a dazzling package to exceed someone's fine wine bucket list."
This offer is suitable for the holiday season with all of the upcoming family dinners, celebrations, parties and gift-giving.
"It seems only appropriate that a winery in Napa Valley steps up to offer a no-holds-barred luxury experience as a holiday gift," said Dario Sattui, founder and owner of Castello di Amorosa. "I spent 14 years creating this dream of a Tuscan castle in the middle of Napa Valley, and I know from hundreds of letters over the years that there are many people who can't get enough of the experience of visiting — that was how we were inspired to put this together."
The $20,000 (per couple) tour includes:

Being transported by limousine from anywhere in Napa or Sonoma to/from the castle
An elegant and theatrical welcome at the castle's drawbridge, where the key to the castle is presented to the tourists as well as a silver-plated Tastevin by Owner Dario Sattui and/or President Georg Salzner
A photographer will accompany tourists to document the visit and later provide a photo album in both digital and leather-bound formats
Touring the castle with the winery's sommelier, from the Torture Chamber to the Chapel and all the historically-accurate rooms in between
Tasting single vineyard Cabernet Sauvignons from barrels with Director of Winemaking Brooks Painter
Creating a customized "Super Tuscan" wine in a private blending seminar with Winemaker Peter Velleno
A tasting of rare wines from the wine library
A private chef will prepare a delicious lunch to be served in the winery's royal apartment
Membership in the winery's Cinquecento Club for one year, which includes two seats at the annual dinner with Castello di Amorosa Owner Dario Sattui
A barrel of Napa Valley Cabernet Sauvignon bottled for the tourist (288 bottles) with a personalized additional label
A barrel head branded with the tourist's name
12 Rene Gabriel Austrian wine glasses
A box of 15 Montecristo Platinum Collection cigars
A larger-than-life-size iron key to the castle
An overnight stay for two at Solage Calistoga Resort.
Castello di Amorosa also offers unusual and lavish tours at $1,000, $3,000, $5,000 and $10,000 per couple. Castello di Amorosa is a popular Napa Valley destination and offers a variety of wine tastings and winery tours in a unique Tuscan castle setting. Contact the Castello for tour reservations at 707-967-6272.
For the history of Castello di Amorosa, visit http://www.castellodiamorosa.com/blog.
About the Company:
Following 14 years of construction, Dario Sattui opened Castello di Amorosa in April of 2007. Situated in the hills above Calistoga, Castello di Amorosa — a family-owned business — produces world-class wines including popular white and red wines as well as proprietary Italian-inspired blends, including Il Barone, La Castellana and Il Passito. Wines are sold only at the winery. The castle winery was made with brick, wood and iron imported from Europe and combined with over 8,000 tons of local, Napa Valley stone. Today, Castello di Amorosa, a popular Napa Valley destination, offers a variety of wine tasting and winery tours in a unique Tuscan castle setting.
For the history of Castello di Amorosa, please visit their website.