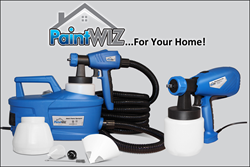 "We have responded to the needs of the home user who wants to complete projects quickly saving time and money. It's convenient, lightweight and this new generation of sprayers is affordable without compromising on quality or performance."
Toronto, Ontario (PRWEB) December 02, 2015
Fuji Spray is a leading North American manufacturer of HVLP paint spraying equipment. The company is proud to announce the launch of a new and affordable brand of sprayers called PaintWIZ™.
PaintWIZ™ was introduced to the market to meet the needs of the everyday DIY user.
"Our new PaintWIZ™ division offers two different sprayer options specifically designed for the DIY user," said Mark Rosin, President of Fuji Spray. "We have responded to the needs of the home user who wants to complete projects quickly saving time and money. It's convenient, lightweight and this new generation of sprayers is affordable without compromising on quality or performance."
Customers have the choice between a Handheld Sprayer or a Turbine Sprayer System.
Both systems will set up within minutes and clean up in less time compared to brushes and rollers. No matter what the customer is spraying, PaintWIZ™ will get the job done quick and easy.
The PaintWIZ™ MAX Paint Sprayer is portable and lightweight yet powerful. Paint 4x faster with this High-Volume Low-Pressure sprayer. Ideal for a variety of different paint coatings, latex, primers, lacquers, and stains. An air filter is installed in the Turbine to prolong life of the motor. There are 3 different spray pattern settings available. This system also includes a lightweight 20′ hose for much longer reach, allowing the user to paint for hours without fatigue.
The Handheld Paint Sprayer PRO uses HVLP (High Volume Low Pressure) technology to spray thinner materials such as stains, sealers, urethanes, varnishes, and lacquers. This Handheld Sprayer will save time and materials, while providing a professional finish at the customers fingertips. The PRO also has 3 spray patterns available and comes standard with a 2.6mm Nozzle and 800ml cup.
A Bonus Kit is included with both spray systems. Free Bonus items include an extra 1.3L Cup, an extra 1.8mm Nozzle, a Viscosity Cup, 3 Mesh Strainers, and a Cleaning Brush.
With PaintWIZ™ the user can tackle interior and exterior painting and staining applications effortlessly, allowing them to spend less time doing the work and more time on other projects. This product is ideal for garage doors, decks, fences, walls, trim, railings, siding, shutters, patio furniture and more.
PaintWIZ™ is high quality HVLP spray equipment for the home user, hobbyist and enthusiastic DIYer – all of this supported by the exceptional customer service that Fuji Spray users are accustomed to.
PaintWIZ™ is available at several online retailers in Canada and the United States.
For more information on the company, visit http://www.paintwiz.com or http://www.fujispray.com
To learn more watch the Intro Video at https://www.youtube.com/watch?v=skDNTGyVDp4
About Fuji Spray:
Since 1986 Fuji Spray has designed and built HVLP systems that have set the standard for the industry.
HVLP is 'Clean Technology'.
With 30 years of experience and through innovation plus improved technology, Fuji Spray has continued to stay market leaders in their field. Their leading brand of products offers a wide range of spray systems to meet the needs of the professional and serious DIYer – all of this supported by exceptional customer service each and every time.
Fuji Spray headquarters are located in Toronto, Canada.