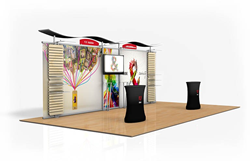 The slatwall exhibits a unique set of features not present in your typical display. Its versatility is one of the key features that our customers love about it - Zenos Adduru
Tustin, CA (PRWEB) November 30, 2015
Displays & Exhibits has updated its best-selling slatwall display system to incorporate a new series of connection joints. This new joint improves upon the construction of the previous one by consolidating the 3-piece construction into just 2-pieces. This breakthrough leads to a much sturdier overall piece that is more durable and resistant to the damage.
This new slatwall connector, while improved, has been designed to work with all existing previous iterations of slatwalls that Displays & Exhibits. This ensures that regardless of when a slatwall exhibit was purchased, the customer will be able to affix this connector to their slatwall.
The slatwall merchandising wall is a staple at many retail trade shows where exhibitors would need to display an assortment of products. In addition to its use as a merchandising wall, its modularity gives it a level of portability and customizability unrivaled by other types of exhibits.
"The slatwall exhibits a unique set of features not present in your typical display. Its versatility is one of the key features that our customers love about it", said Displays & Exhibits Sales Manager Zenos Adduru. "When redesigning this crucial component, we wanted to ensure that our past customers would be able to benefit from this redesign as well. I'm sure our past clients would be absolutely livid if we alienated them in such a manner." These past clients include exhibitors at the upcoming MAGIC clothing show in February.
Exhibitors at the MAGIC show make frequent use of slatwalls to display their newest and latest products. The show takes place in Las Vegas biannually with the upcoming show taking place at the Mandalay Bay Convention Center from February 16-18. Fashionistas from all over the globe will gather to showcase the latest styles and trends and exchange industry information. Find additional info at: http://www.magiconline.com/magic
About Displays & Exhibits
Displays & Exhibits is a division of Absolute Exhibits, Inc. - a leader in the trade show industry with multiple full service exhibit houses located around the globe. The division started in the wake of Absolute Exhibits' success as a means to educate and serve first-time exhibitors in ins-and-outs of the trade show industry. The company is located in Orange County, California where they host a showroom that is open to the public with an appointment.