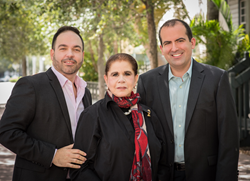 We're building the future of real estate.
Miami Beach, FL (PRWEB) December 01, 2015
Compass Real Estate is pleased to announce that Jorge Fernandez, Malvina Godoy and Yasser Ponce have joined Compass as Founding Agents.
"We're building the future of real estate," says Beth Butler, president of Compass Florida. Top real estate professionals Jorge Fernandez, Malvina Godoy and Yasser Ponce are very welcome additions to the company and a tremendous asset to Compass. The Compass platform is about bringing together the world's brightest professionals across real estate, technology, business and creative and this team is a great Miami representation of that platform."
With over 35 years experience handling middle and high-end residential real estate sales in Greater Miami focusing on Brickell, Coral Gables, Coconut Grove, Downtown Miami, Key Biscayne, Kendall, Miami Beach, Pinecrest and South Miami, these three dynamic agents have skill sets that make them a natural match for discerning clients with equally high expectations and standards.
An industry activist and influencer, Jorge Fernandez is the current State Director of the Florida Association of Realtors and member of the Miami Real Estate Tech Forum. In recent months, he has achieved nearly $20 million in sales. Regarding his move to Compass, "the way real estate business is done has changed. Early on, I integrated the power of the Internet into my real estate practice with great success. It is my affinity for technology in real estate that led me to join Compass."
Certified Residential Specialist, graduate of the Residential Institute, and ranking in the top 2% of realtors in the nation, Malvina Godoy's stellar listings compounded with great abilities as a negotiator make her a superb advisor. "My deep global experience, coupled with cyberspace expertise enable me to provide useful and actionable real estate strategies," says the multilingual Godoy. "Under the Compass umbrella I will be part of a passionate team of professionals, who are making it easier to find a great place to live."
With nearly two decades' experience in the financial services field with an emphasis in residential lending arms, Yasser Ponce gained a wealth of knowledge on how to manage complicated deals and handle his clients' transactions with strict confidentiality. He has translated his financial and real estate transaction expertise into a flourishing real estate career specializing in the "middle range" of the market. He is proud to be a Founding Agent at Compass in Miami. "I wanted to work with a company that is constantly evolving and doing things both differently and better than the competition."
About Compass
Compass is a technology-driven real estate platform dedicated to creating a seamless and intelligent home buying, selling, and renting experience. Combining the country's top agents, proprietary market insights, and integrated mobile and web technologies, Compass is developing the future of real estate decision-making. Compass has locations in New York City, Los Angeles, Washington DC, Boston, Miami, and the Hamptons, and has raised $125 million in investor capital. For more information on Compass, and to view more than $1 billion in exclusive Compass properties, visit http://www.compass.com.