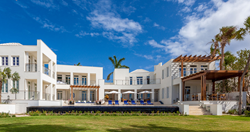 (PRWEB) December 02, 2015
Chasing the Blues Away-Ultimate Beachside Makeover Cerulean Villa, Anguilla, British West Indies
With their recent makeover of Cerulean Villa, architect Deborah Berke and interior designer Scott Salvator have transformed a 20th-century getaway on Anguilla's Barnes Bay into a 21st-century beachfront paradise with stunning ocean views and charming interiors in shades of azure and white
The transcendent effect of the ocean view—and aquatic palette—is everywhere apparent in the recent reinvention of Cerulean Villa by New York-based architect Deborah Berke and Gotham-headquartered interior designer Scott Salvator. "Our client had visited Cerulean as a guest and came to us with the project to redesign the property," says Berke. "Our vision was for an elegant retreat built around the beauty of Anguilla. The architecture of crisp white walls in bold, geometric forms is an elegant juxtaposition to the surrounding natural environment."
With aptly named landscape architect Raymond Jungles—and inspired by the storied Caribbean tradition—Berke and Salvator have elevated a wonderful waterfront property on Anguilla's Barnes Bay into an ultra-luxe, 12,500-square-foot, 9-plus-bedroom beachfront vacation estate that verges on the sublime. Berke, just appointed Dean of the Yale School of Architecture, notes that as the property's original architect, her history with it dates to its genesis: that villa, version 1.0, was completed in 1996. "My firm was then hired by the new owner to update and transform the villa into an elegant estate," she explains. Villa 2.0—expanded, reoriented, and redecorated—re-opened in 2013. Among the features that make it such a remarkable private paradise: indoor and outdoor dining rooms, a heated, freshwater, black-tile-lined infinity pool and Jacuzzi right on the beach; a floodlit tennis court; a golf-putting green and pitching tee; a home theater; and an 800-square-foot gym.
The changes include enlarging the villa, emphasizing the views, and adding locally-inspired roof forms, plus a complete upgrade of all the vital systems, from electrical and waterworks to A/V—installed by experts from the UK's Pinewood Studios, home to 22 of the James Bond movies, who were on site for a month. With a gut renovation of the existing structure that adheres to Miami-Dade County's hurricane standards—replacement doors and windows are all of impact-resistant materials—Berke preserved the villa's original composition of simple geometry in the renovated areas. Her addition respects that design precedent, and the redesign provides more outdoor space along the beachfront. Much of the exterior, she adds, was painstakingly rebuilt in place to preserve the original vision: "We used the opportunity to strengthen the foundation and exterior walls to fit our current, more stringent standards. The current state of the property accurately reflects our ambitions for a bespoke-yet-easygoing residential experience."
Easygoing, yes, but also luxuriously comfortable, awash in a sophisticated palette of materials, textures, and ocean-inspired hues, and marvelously rich in decorative detail—thanks to interior designer Scott Salvator, who worked alongside Berke from the outset to ensure that all design decisions reflected the client's wishes. "The context, the climate, and the way the client wanted to live here drove every aspect of the design," says Salvator, who had designed several houses for the client prior to this one. The client is family oriented—and has a large family—so Berke and Salvator created enough private areas even within the communal spaces that "they weren't obligated to be together all the time." Many covered terraces throughout the complex offer views of the beach; the villa's nine ocean-view guestrooms make sure that nature is always just a glance away.
"First, we were doing an all-white house," reflects the interior designer. "But one advantage of working with clients over time is that you get to know them. This client's first reaction, always, is to have color." Salvator began folding color into the décor in ever-larger doses. Initially the plan was for custom decorative paint finishes on the walls (a different treatment in each room). As the client craved ever-greater visual saturation, he began adding window and upholstery fabrics, many from Pierre Frey, into the mix, as well as pieces of painted or lacquered furniture. "The cerulean-and-white combination came about from that decision-making process," he explains. All the furnishings have a European flair because that is the client's heritage.
While the consistent, beachy, blue-and-white palette creates visual cohesion throughout the expansive property, each light-filled, beachfront-facing room has its own identity expressed through the style and shade of blue in the decorative wall finishes by Salvator's prized team of artists and the mix of blue tones in the fabrics and accents—from nautical to floral, from stripe to check. Every bath has its own distinctive look as well, often a riff on an element of the adjacent bedroom or living space. As Salvator puts it, "the challenge was to find how many ways to twist blue and white to make each room stand out. Every room here is identifiable and distinctive." Salvator also wanted the relief of contrast, and was able to convince the client to include a pink bedroom and a turquoise room, too. A bountiful display of artwork, full of contextual references and chosen by the client, layers in points of interest within the interior.
Despite its remote location, Salvator filled Cerulean Villa with artisan-crafted details and custom upholstery. The soft coral-and-pale blue kitchen designed by Christopher Peacock has a custom-made limestone chimney and stencilled cement floor. The media room has palm tree-stencilled ombré blue walls that serve as an almost surreal backdrop to wraparound sofas in ever-colorful Missoni textiles.
As for ecological sensitivity, both architect and interior designer programmed in as many 21st-century updates as possible. An onsite water filtration system collects storm water for irrigation. Built-in planters have been carefully thought-out so that the irrigation system can run underneath the pool deck. And the list goes on.
FOR IMMEDIATE RELEASE
PRESS CONTACT: Gina Forte
Atelier Group
212.828.4770
ginaforte(at)ateliergrp(dot)com