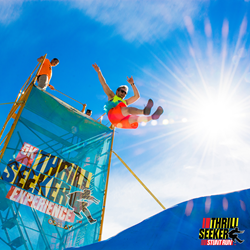 (PRWEB) November 30, 2015
The ThrillSeeker Stunt Run released their travel plans for the 2016 event season, which opens with a bang in Texas at the end of April. With 11 events planned for the tour, the ThrillSeeker Stunt Run is gearing up for an adrenaline-packed year!
This year the ThrillSeeker Stunt Run, presented by the Guardian Angel Council, will feature over a dozen premium and professional stunts including a new, spectacular stunt only experienced by circus performers! Keeping with tradition, the creators plan to make the 2016 series bigger and better by ramping up the adventure, increasing the action, and making each participant's experience one for the books.
The ThrillSeeker Stunt Run will travel to 11 cities in eight different states with heart-pounding, high-flying stunts designed by real Hollywood stunt producers and make them available to the masses. Get ready to have the time of your life and join in on seven months of the StuntLife.
The ThrillSeeker Stunt Run's 2016 Tour:
April – San Antonio, TX
May – Houston & Dallas, TX
June – Sacramento, California & Eugene, OR
July – Spokane, WA & Butte, MT
August – Salt Lake City, UT
September – Las Vegas, NV & Temecula, CA
October – Phoenix, AZ
Tickets are available for ALL upcoming events as part of a 2016 Kickoff Special! Special pricing is available across the board until 11:30 pm on December 31st, 2015.
Tickets:
http://stuntrun.com/5k-race-locations.html
About ThrillSeeker Stunt Run
The ThrillSeeker Stunt Run is a one-of-a-kind course designed by Hollywood stunt producers. Produced by a creator of Nitro Circus and Thrillbillies, the run includes over a dozen stunts, giving participants the opportunity to experience "as seen on TV" challenges in a fun environment with friends and family.
About Guardian Angel Council
Guardian Angel Council (GAC) is a 501(c)(3) that exists to create awareness for the National Bone Marrow Donor Program, specifically through the Be The Match® Registry. There is an ever-growing need for marrow donors, as there is a 1-in-4 chance of having a sibling be a match, and about 70% of patients in need of a transplant do not have a suitable donor in their family. GAC pays special attention to increasing minority participation in the registry - minorities make up only 30% of potential donors, and patients are more likely to find that life-saving match from donors of their own ethnic background. For more information, please visit http://www.gacouncil.org.