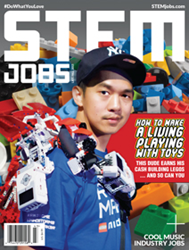 Funding is very tight in our district, but we want to continue to introduce new STEM activities so students can get more hands-on, practical applications of the physics concepts they are learning," said James Eutsey and Eric Craig, both H.S. teachers.
Pittsburgh, PA (PRWEB) December 08, 2015
Victory Media, publisher of STEM JobsSM media and resources designed to help students "do what they love" after graduation, released a video today to kick off a new program pairing local colleges and employers with STEM classrooms in southwestern Pennsylvania. Through the new STEM JobsSM sponsorship program, colleges and universities, community colleges, trade schools and employers have the unique opportunity to place STEM JobsSM resources into high school classrooms across Allegheny, Butler, Beaver, Washington, Westmoreland and Somerset counties.
The Pittsburgh-area campaign raises awareness of the opportunity for colleges and employers to become the exclusive STEM JobsSM education or career sponsor of area high schools. Colleges and companies will have the opportunity on Thursday, December 9 to select from an initial list of more than 30 high schools that have asked to participate in the program. Sponsorships are exclusive; each high school may have only one higher learning sponsor and one employer sponsor during the minimum one-year sponsorship. Future cohorts of high schools in southwestern Pennsylvania and across the country will become available for sponsorship in early 2016.
Over the past 20 years, southwestern Pennsylvania has experienced a tremendous influx of high-tech, high-demand and high-paying STEM and STEM-related jobs. Yet, a significant number of high school and college graduates leave the state each year to attend college or to pursue employment elsewhere. Furthermore, according to a recent study by Pittsburgh's Carnegie Science Center, declining education budgets are a major barrier not only for funding technology or STEM-related professional development, but budget cuts have forced many school districts, especially smaller rural districts and urban districts of all sizes, to cut back programs. Physics and tech-ed teachers James Eutsey and Eric Craig of Berlin Brothersvalley High School in Somerset County summed up the challenge for today's K-12 educators. "Funding is very tight in our district, but we want to continue to introduce STEM activities so students can get more hands-on, practical applications of the physics concepts they are learning."
STEM JobsSM strives to "connect classrooms to careers" by providing teachers engaging, hands-on content, including student-written articles, lesson plans, industry insights, experiments and "hot jobs" posters, to showcase different careers in STEM. Job profiles in each issue of STEM JobsSM magazine cover a broad range, from those requiring professional certifications to apprenticeships to associates degrees to bachelor programs and beyond, keeping STEM in reach of all students.
The STEM JobsSM partnership with local high schools and colleges will answer questions like those asked by students from Mount Lebanon High School: "What's it like to be a real crime scene investigator?" "Is this the kind of stuff a pharmacist needs to understand?" "I'm really good at this. I wonder if I can make a career out of it."
As a Pittsburgh-area based company, Victory Media is committed to working with area colleges and companies to promote local employment opportunities for life. Colleges and employers interested in sponsoring STEM JobsSM resources for the next generation of STEM talent, can learn more about the program and view a list of participating high schools at http://stemjobs.com/inspire. High schools interested in participating in the nationwide program in 2016 may contact STEM JobsSM at info(at)stemjobs(dot)com.
About STEM JobsSM:
STEM JobsSM delivers a number of services to colleges, employers and school districts nationwide, such as performance benchmarking, recruiting solutions, workforce advisement and professional development tools, as part of its mission to bridge the gap between the classroom and high-growth careers in STEM. The company is a division of Victory Media, a workforce development firm founded in 2001 specializing in connecting classrooms to careers and helping professionals in transition. Victory Media produces media, ratings and training solutions used by Fortune 1000 firms, colleges and school districts nationwide. In addition to STEM JobsSM, its media brands include G.I. Jobs®, Military Friendly®, Military Spouse and Vetrepreneur®.
Learn more about Victory Media's solutions at http://www.victorymedia.com. For more information on STEM Jobs, visit http://www.stemjobs.com.
For more information or to arrange interviews, contact:
BP Media Relations, LLC
Gabrielle Torello – 917-312-2832
Barbara Pflughaupt – 212-707-8181