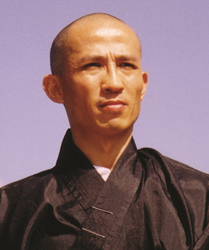 Shaolin Institute, New Orleans' campus has hosted many masters' seminars in the past
New Orleans, LA (PRWEB) December 03, 2015
Shaolin Chan (Zen) and KungFu Grandmaster Shi DeRu will conduct exciting seminars on topics ranging from conscious communication, women's self-protection, and KungFu-combat SanDa to certain ways to run a successful KungFu school and natural-health care center in the US. The lectures will be held on New Orleans' campus of Shaolin Institute, from Dec. 10 through Dec. 13, 2015 on 1995 Gentilly Blvd. STE C1 New Orleans, LA 70119.
The seminars coincide with Shaolin Chan KungFu Legacy - US Open Challenge XXVII which is hosted by the KungFu SanDa Federation (KSF), a division of Shaolin World Federation along with Shaolin Institute, and other organizational sponsors. The tournament and shows, open to all schools of martial arts, will take place at the Carver Theater on December 12, 2015, in New Orleans, Louisiana.
The morning format of the event includes all levels of Kung Fu and Tai Chi as well as Kung Fu San Shou amateur competitions. The evening main event includes K. SanDa/SanShou finals, Shaolin Legacy Show, and internationally recognized KungFu students and masters' performances. (http://www.eventbrite.com/e/shaolin-chan-legacy-dec-12-2015-tickets-19375513683).
Shaolin World Federation and New Orleans' campus of Shaolin Institute will co-host the three-day seminar event. The first seminar on meditation focuses on conscious communication with a short speech and sitting-standing meditation, which has been shown to have many health benefits such as release anxiety, depression and high level of stress related disease. Women's self-protection follows.
Following is a list of each day's seminars:
12/10/15, Thursday, 7: 00 PM
Chan Meditation on Conscious Communication
Target participants: all who wish to be harmonious, happy and healthy
12/10/15, Thursday, 7:45 PM
Women's self-protection, "2 ounce vs 2000 lb"
Target participants: ladies ages 14 and up wishing to have safety and be able to protect themselves
12/11/15, Friday, 6:00 PM
Law enforcement and uniformed close combat tactics training
Target participants: Police, Sheriff Deputies, Security guards, privateer, law enforcement, and anyone interested in defending themselves
This seminar is for applying tradition Kung Fu applications in a real world of law enforcement to subdue perpetrators while exerting little energy. SanDa seminar by Grand Master Shi DeRu follows at 7:00 PM.
12/13/15, Sunday, 9:00 AM
How to run a successful KungFu school and natural health care center in the US
Target participants: all interested in teaching KungFu and health and natural healing
Topics includes financial sustainability, organization efficiency, teaching methods, communications and more.
Shaolin Institute, New Orleans' campus has hosted many masters' seminars in the past ranging from the worldwide most well-known WuShu Grand Master WuBin (Jet Li's teacher), Shaolin Grand Master Shi DeYang, Shi DeRu's KungFu brother (the most famous traditional Shaolin KungFu Master), Shi DeQian, internationally renowned Shaolin Master, to New Orleans' native Patrick Barry, a senior student instructor and former well-known UFC fighter, and Cung Le, a senior student of Shaolin Institute and worldly renowned UFC fighter and movie star.
The Shaolin Chan Foundation is a nonprofit organization, section 501(c)(3), that is operated under the name of the SWF (Shaolin World Federation), which is dedicated to promoting Chan living, cosmic intelligence of conscious universe Qi, natural health and martial arts.
For more information on 2015 Shaolin Chan KungFu Legacy - seminars and US Open Challenge shows, call 504-835-1877 or 77-286-9808 or visit http://www.ksfworld.org, and http://www.shaolin-world.net.
###