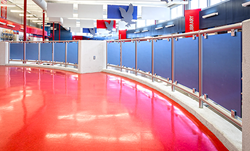 All stakeholders in this project, from architect to contractor to owner, are highly satisfied with the Hollaender railing.
Cincinnati, Ohio (PRWEB) December 09, 2015
Hollaender Manufacturing was chosen by Glendale High School in Springfield, MO to build and provide a new railing system for a Commons Area addition on the school campus. Glendale, working in conjunction with Springfield based GHN Architects and Engineers was in search of a railing system that was both visually appealing and low maintenance, at a cost efficient price. After much deliberation and consideration the final decision was made to install Hollaender's Interna-Rail® aluminum clear anodized finish railing system with acrylic resin infill panels designed and built by Hollaender® Manufacturing Company out of Cincinnati, Ohio.
The Hollaender Interna-Rail® railing system that was ultimately installed consisted of a clear anodized aluminum frame, along with Lumicor® Lago acrylic resin infill panels. The acrylic infill panels matched the schools color scheme and allowed more natural light into the area than a usual picketed infill. In addition to the system offering the school the look and functionality desired at an affordable price, the versatility of Hollaender's component/non-welded design was an added benefit to everyone involved in the project.
After completion of the project Joe Vejraska, project architect for GHN Architects and Engineering stated "All stakeholders in this project, from architect to contractor to owner, are highly satisfied with the Hollaender railing."
Hollaender's® Interna-Rail® handrail system is an in-line fitting based system designed to combine the clean look of welded rail with all the benefits of a mechanical system. Interna-Rail® systems can be designed to meet any building code and are being used throughout the world in architectural, public works, and stadium applications.
About Hollaender Manufacturing
Hollaender is a manufacturer and marketer of aluminum structural pipe fittings, aluminum pipe, as well as final assemblies that use these components.
Hollaender is also a US market leader in the design and manufacture of complete architectural railing systems, often called "Decorative Metal Railing Systems."
Hollaender components are used in the design and build of handrail, guardrail and safety rail systems as well as a wide variety of unique modular pipe and fitting based structures for commercial, residential, public works and industrial applications, as well for retail store fixtures and other structural applications. These components and systems are marketed under the trademarked brands Speed-Rail® and Interna-Rail®. Hollaender also offers consultation, design, and project management services.