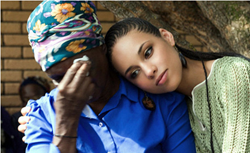 Use your voice...You have the power to make change, whether it's ending the AIDS epidemic or some other issue that touches your heart.
New York, NY (PRWEB) December 01, 2015
December 1, 2015—Since the start of the AIDS epidemic in the 1980s we have seen vast improvements in scientific research and discoveries, leading us to better understand the disease's behavior. Globally, the fight has made significant strides, providing increased hope and relief to those affected by HIV/AIDS. Mediaplanet's cross-platform edition of "World AIDS Day" provides insight on the new advancements in antiretroviral therapies, diagnostics and services that are offering quality care and peace of mind for patients.
More than 1.2 million people in the United States are living with HIV infection, and almost 1 in 8 (12.8 percent) are unaware of their infection. HIV prevention is key in stopping the spread of this disease, which is why global leaders must continue to speak up to implement better policies and educational platforms to raise awareness on this disease.
Alicia Keys, Grammy-Award winning artist and co-founder of Keep A Child Alive and the We Are Here Movement, lends her voice to both the print and digital campaign. In an exclusive interview with Mediaplanet, she shares the motivational factors that drove her to become an active figure in this community, as well as what she hopes we can achieve for the future of HIV/AIDS care.
"We need to keep AIDS in the headlines," says Keys. "We must keep pressuring our politicians to fund programs—we must speak out! As someone who's witnessed first-hand the progress of the last 12 years, I'm determined not to let this opportunity pass us by."
Keys concludes by encouraging readers they have the power to influence the change we want to see in the world. "Use your voice," she says. "Shine a light on what's going on that you care about. You have the power to make change, whether it's ending the AIDS epidemic or some other issue that touches your heart"
The print component of "World AIDS Day" is distributed within the December 1 issue of USA Today in Los Angeles, San Francisco, New York, Washington DC/Baltimore, Dallas, Houston and North Central Florida, with a circulation of approximately 450,000 copies and an estimated readership of 1.3 million. The digital component is distributed nationally, through a vast social media strategy, and across a network of top news sites and partner outlets. To explore the digital version of the campaign, click here.
This edition of "World AIDS Day" was made possible with the support of UNAIDS, Alicia Keys, amFAR, the CDC, Elizabeth Glaser Pediatric AIDS Foundation, Josh Robbins, Association of Nurses in AIDS Care, Gilead, Merck, Abbott, Housing Works, Harlem United, Lambda Legal and many more.
About Mediaplanet
Mediaplanet is the leading independent publisher of content-marketing campaigns covering a variety of topics and industries. We turn consumer interest into action by providing readers with motivational editorial, pairing it with relevant advertisers and distributing it within top newspapers and online platforms around the world.
Press Contact:
Harika Manne
Harika.manne@mediaplanet.com
646-755-7951