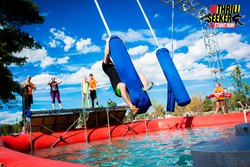 The ThrillSeeker Stunt Run will showcase over a dozen stunts including a new stunt that is typically only seen by circus performers!
(PRWEB) November 30, 2015
The ThrillSeeker Stunt Run is kicking off the 2016 season by joining Texas for a major three-part extravaganza. In typical ThrillSeeker fashion, the ThrillSeeker Stunt Run will showcase over a dozen stunts including a new stunt that is typically only seen by circus performers! These stunts will be made available to the masses in a safe, fun environment.
Get ready to push the envelope because real Hollywood stunt producers designed these stunts to match adrenaline and adventure with safety. Some ThrillSeeker favorites include the Zip-n-Slide, the world's tallest inflatable waterslide, and the iconic JugglerNaught.
The extravaganza will start in San Antonio on April 30th, and continue on to Houston on May 14th, with the three-part exhibition coming to a close in Dallas on May 28th. Participants can expect warm weather, action-packed obstacles, and a full community of ThrillSeekers ready to join in for the experience of a lifetime.
With over a dozen obstacles designed for over-the-top thrills, Stunt Run is not singular by mud, electric shock, cold, impassioned fitness, or trending gimmicks found in other events.
Event Highlights: World-renowned DJ Will Gill, family accessible Kid's Stunt Run for ages 6-12, and over a dozen stunts designed by professional Hollywood stunt producers for the ultimate adventure.
The event will take place between 8 am and 4 pm with adult waves starting every 15 minutes until 2:30 pm. The Kid's Stunt Run will start at 3 pm, and is open to ages 6 through 12.
Tickets:
https://2016sanantonio.eventbrite.com
https://houstonstuntrun2016.eventbrite.com
https://dallasstuntrun2016.eventbrite.com
About ThrillSeeker Stunt Run
The ThrillSeeker Stunt Run is a one-of-a-kind course designed by Hollywood stunt producers. Produced by a creator of Nitro Circus and Thrillbillies, the run includes over a dozen stunts, giving participants the opportunity to experience "as seen on TV" challenges in a fun environment with friends and family.
About Guardian Angel Council
Guardian Angel Council (GAC) is a 501(c)(3) that exists to create awareness for the National Bone Marrow Donor Program, specifically through the Be The Match® Registry. There is an ever-growing need for marrow donors, as there is a 1-in-4 chance of having a sibling be a match, and about 70% of patients in need of a transplant do not have a suitable donor in their family. GAC pays special attention to increasing minority participation in the registry - minorities make up only 30% of potential donors, and patients are more likely to find that life-saving match from donors of their own ethnic background. For more information, please visit http://www.gacouncil.org.