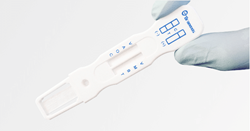 Oranoxis Inc. presents ToxWipe-Oral™, a rapid screening saliva drug test that detects multiple drugs of abuse in a matter of minutes.
San Diego, CA (PRWEB) December 02, 2015
Oranoxis Inc. now presents a new rapid drug screening device ToxWipe-Oral™, a saliva drug test which detects multiple drugs of abuse in human saliva samples, and can help police officers determine whether a driver is under the influence of an abused substance in a matter of minutes.
Oranoxis Inc. is specialized in the development of diagnostic saliva drug tests that utilize saliva as the sample matrix. Dr. Daniel Wang, Chief Scientist at Oranoxis Inc., states, "For roadside drug testing, testing saliva is practical compared to blood and urine, and comes without the privacy concerns of sample collection. ToxWipe-Oral™ is different from other saliva drug tests in the market because it requires at most 0.2 milliliters of saliva, which can usually be collected within seconds. Similar saliva drug tests usually require about 1 milliliter to 2 milliliters of saliva, which will usually take minutes to collect. This is very important for roadside drug screening since a common effect of drug use is dry mouth, and collecting 1 milliliter to 2 milliliters of saliva can be challenging and time-consuming. The new ToxWipe-Oral™ device detects parent THC with high sensitivity and has an indicator that turns green when sufficient oral fluid is collected."
With recreational drug use on the rise, intoxicated drivers have elicited growing public safety concerns. As a result, many countries are introducing or have already implemented legislation to allow for saliva drug testing if a driver is suspected of driving under the influence. In the United States, an estimated 9.9 million people reported driving under the influence of illicit drugs during 2013[1]. These figures are expected to rise with the legalization of recreational or medical Marijuana use within multiple states. ToxWipe-Oral can serve as an innovative tool to improve road safety and roadside drug testing methodology.
For more information about ToxWipe-Oral™ or assistance in implementing roadside drug testing programs, please contact Oranoxis Inc. at info(at)oranoxis(dot)com.
About Oranoxis Inc.
Oranoxis Inc. develops, manufactures and markets qualitative and quantitative immunoassay products and sample collection devices for the detection of drugs of abuse and monitoring for food safety, environmental pollutants, and therapeutic drugs. Oranoxis Inc. is committed to improving public safety and individuals' quality of life. Visit http://oranoxis.com/ for more information.
1. Substance Abuse and Mental Health Services Administration (SAMHSA). 2013. Results from the 2013 National Survey on Drug Use and Health: Summary of National Findings. Rockville, MD: Office of Applied Studies, SAMHSA.