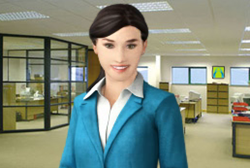 As the first V-Person solution to be implemented in Arabic, CBD's virtual assistant Sara continues to be innovative, revolutionary and cutting-edge.
London, UK (PRWEB) December 03, 2015
Creative Virtual, a world leader in self-service customer engagement solutions, has announced the expansion of Commercial Bank of Dubai's (CBD) virtual assistant Sara to provide support in Arabic. CBD, one of the leading banks in the United Arab Emirates, pride themselves in being a progressive and modern banking institution and selected Creative Virtual's V-Person™ technology to provide self-service support for their customers in both English and Arabic.
Virtual assistant Sara was first launched in English as part of CBD's new website and online banking portal in 2014. The Smart Help solution is designed to enable customers to find the right information at the right time – anytime, anywhere. The positive response and increasing usage of Sara on the web, mobile, tablet and kiosks was evidence that there was previously an unmet need among CBD's customer base for an instant, 24/7 self-service option. Based on this insight, CBD collaborated with Creative Virtual to create an Arabic version of the Smart Help tool to provide this self-service option to even more of their customers.
"As the first V-Person solution to be implemented in Arabic, CBD's virtual assistant Sara continues to be innovative, revolutionary and cutting-edge," said Bjӧrn Gülsdorff, Head of Business Development at Creative Virtual. "Providing positive experiences for a multi-lingual customer base is a pressing challenge for many brands, and we're proud that our Smart Help technology is enabling organisations, including CBD, to engage with customers in the languages that best suit their needs."
Earlier this year, CBD's innovative virtual assistant solution received recognition as part of the bank's winning entries in the prestigious Banker Middle East UAE Product Awards and International Business Excellence Awards programmes.
To learn more about 'Ask Sara', including the solution's seamless integration with live chat and device-specific templates, download the full Customer Success Story.
ABOUT CREATIVE VIRTUAL
Creative Virtual is a world leader in self-service solutions that enable anywhere, anytime customer engagement between brands and their customers. Leading global organisations including Lloyds Banking Group, Time Warner Cable, HSBC, Verizon, Chase, InterContinental Hotels Group, Autodesk and Tesco rely on our award-winning V-Person technology to improve their customer support experience, increase sales, reduce costs and build brand loyalty.
Backed by an experienced, expert team as well as an extensive partner network, our innovative virtual agent, knowledge management and business intelligence platform empowers organisations to provide customers with consistent, accurate, personalised and seamless omnichannel engagement across web, mobile, social, SMS, contact centre and IVR channels. Delivering significant contact deflection and reductions in average call handling times, as well as increased first contact resolution, together with powerful customer analytics and outcome tracking, the V-Person Smart Help platform is the most compelling self-service product in the world today.
Creative Virtual is headquartered in the UK with operations in the United States, the Netherlands, Australia, New Zealand, India, Singapore and Hong Kong. For more information about Creative Virtual and V-Person technology, please visit our website at http://www.creativevirtual.com.
ABOUT CBD
The Bank was incorporated in Dubai, United Arab Emirates in 1969 and is registered as a Public Shareholding Company (PSC).The Bank is listed on the Dubai Financial Market and is fully owned by UAE Nationals, including 20% by the Investment Corporation of Dubai (ICD). The Bank employs around 1,100 employees of 39 nationalities of which 41% are UAE Nationals. It offers a wide range of conventional and Islamic banking products and services to its corporate, commercial and personal banking customers through a network of 26 branches 3 Cash Offices and a digital kiosk in partnership with the Dubai Higher College of Technology. Moreover the Bank has invested in an extensive network of over 200 ATMs/CDMs.