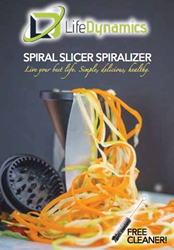 The Spiral Slicer offers fresh ways to make fast, healthy meals and is easy to use. Discounted 70% right now! www.spiralslicer.net. Use this code at checkout: B9YUMMYH
Denver, CO (PRWEB) December 01, 2015
Millennial foodies are clamoring to get a hold of the Spiral Slicer. This innovative kitchen tool easily makes vegetables into long spirals, ready for boiling like pasta or eating raw in delicious salads and other dishes. Spiral Slicers (http://www.spiralslicer.net) are being offered at a 70% discount by entering the code B9YUMMYH at checkout. Do food trends really move up the generational ladder? Yes. What millennials want today is what we'll all be eating tomorrow.
"The Spiral Slicer from Life Dynamics has made a fundamental change in the way we live and the feed our family. Who says kids will only eat hot dogs and chicken nuggets? Now they can't wait for the vegetable spirals made with the Spiral Slicer from Life Dynamics. What a relief!"
~Jeff, husband and father three in El Cajon, California
Families, foodies, and the rest of us are all learning how to "live the good life." Part of the commitment to that lifestyle is finding practical ways we can eat more simply, with the pure ingredients that increase nutrition and our quality of life.
The Spiral Slicer offers fresh ways to make fast, healthy meals and is easy to use. If you can grate cheese, you can use a Spiral Slicer. The Spiral Slicer is committed to helping as many people as possible enjoy "living the good life" by receiving a 70% discount off of this new product at http://www.spiralslicer.net, purchase the spiral Slicer from Life Dynamics and enter this code at checkout: B9YUMMYH.
With the new Spiral Slicer, anyone can enjoy fruits and vegetables in new ways. According to Jarod, network administrator in Portland Oregon, "My girlfriend and I use our favorite vegetables in the Spiral Slicer every week. Some evenings we use the vegetables to create a healthy, low-carbohydrate, naturally gluten-free meal. Other evenings we use the Spiral Slicer on carrots and other vegetables for a fresh, unique take on traditional salads."