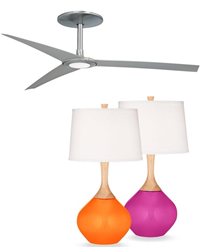 Both represent the cutting edge in style and fashion-forward home product design.
Los Angeles, California (PRWEB) December 02, 2015
Time, Inc.'s This Old House named the "Ozone Ceiling Fan" and the "Color Plus Wexler Table Lamps," two exclusive designs from Los Angeles based specialty lighting retailer Lamps Plus, to its fifth annual "This Old House Top 100," a list of the 100 best new home products of the year.
Each year, the editors of This Old House magazine spend months scouting, testing, and culling countless new products for the home. They identify the most distinctive, useful, and innovative products in seven categories: Kitchen, Bath, Tools, Home Tech, Building Products, Outdoor Living, and Finishing Touches.
The two Lamps Plus products named underscore a commitment to innovation and customization that lies at the heart of the Lamps Plus design process. "We are extremely proud that our proprietary designs, the Ozone fan and the Color Plus Wexler table lamp, have been included in the Top 100," said Dennis Swanson, CEO and President of Lamps Plus.
"Both represent the cutting edge in style and fashion-forward home product design. The recessed Ozone ceiling fan is among the thinnest, quietest and most efficient fans on the market today. The Color Plus Wexler lamp offers the ultimate in customer choice with more than 150 colors and a range of lamp shade options."
Noted This Old House Editor Scott Omelianuk, "Home companies release thousands of new products every year, and our job is to highlight the ones with staying power—those that are in some way brilliant and will make our readers' lives better."
Calling it a "true eureka moment," This Old House chose the Ozone Ceiling Fan in the "Best New Home Tech Products" category for the way the fan motor installs directly in the ceiling between ceiling joists. This unique design feature allows for an extremely thin and streamlined profile, giving the fan its distinctive look. The fan is also very quiet. In part this is because the motor is installed out of sight in the ceiling, but it is also because the design uses a DC motor. More powerful and energy efficient than typical AC motors, the use of the DC lowers the noise signature for the fan. An integrated LED light completes the hi-tech look.
Included in the "Best New Finishing Touches" category is the Wexler table lamp. The newest addition to Lamps Plus' Color + Plus collection, the Wexler lamp features an elegantly-shaped, Mid-Century-style glass base with a wooden lamp neck done in a natural wood tone. The glass base is available in a rainbow of over 150 designer colors, including designer tones such as the Pantone color of the year. Each lamp is handcrafted by Lamps Plus artisans in its Los Angeles-based design studio. In addition to the color tones, consumers can also view the lamps paired with different shade options. More than 200 color and shade pairings are available for viewing online at LampsPlus.com.
The entire list of this year's honorees are featured in the This Old House November/December issue, and can also be found online.
About Lamps Plus
For more than 30 years, Lamps Plus has been synonymous with excellence in the retail lighting industry. Established in 1976, Lamps Plus is the nation's largest specialty lighting store, with dozens of locations throughout the western United States. LampsPlus.com has been named a Top 20 Housewares & Home Furnishings e-tailer for three years running and a "Hot 100 World's Best Retail Website" in 2013-2014 by Internet Retailer Magazine. Together with its retail locations, the company serves customers nationwide with the largest selection of functional and decorative lighting fixtures, accessories, furniture and home decor. This selection includes hundreds of designs, ranging from traditional chandeliers to the latest in home decor, available exclusively from Lamps Plus. The company also holds several patents for innovative lighting. Services offered include in-home lighting consultations, in-store workshops and installation from expert, licensed electricians. American Lighting Association certified designers are available to offer product recommendations and advice in all our stores, by phone or online at LampsPlus.com. The Lamps Plus family of websites also includes 55 Downing Street and Lamps Plus Open Box. Visit the official Lamps Plus website: LampsPlus.com.
About This Old House
This Old House Ventures Inc. is America's premier home-enthusiast brand, netting 50 million multimedia impressions each month through its award-winning television, print, and Web properties. The leading consumer publication for home how-to and inspiration, the award-winning This Old House magazine has a circulation of 950,000 and reaches an audience of nearly 6.5 million print readers. This Old House is available in digital format for tablets and is published by Time Inc., the largest magazine media company in the U.S.