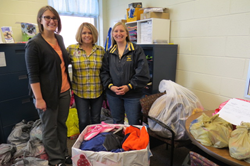 We are fortunate to be able to come together as employees and support our community.
Monroe, OH (PRWEB) December 01, 2015
On November 20, 2015, the staff of Mount Pleasant Retirement Village donated coats, hats, mittens, and scarves to elementary school children in Monroe Local Schools. Over 50 warm items were donated to local children in need through The Butler County Success Program.
The Butler County Success Program's mission is to remove non-cognitive barriers to learning by building bridges between home, school, and community to improve school success and self-reliance. They provide food, clothing and shelter, and help to find a medical home for families. This organization currently serves 94 families in the city of Monroe and has been meeting the needs of Butler County children for ten years.
Each year the needs and numbers of area children continue to increase. Lindsay Henriquez with Butler County Success Program explains they are always in need of personal hygiene products including body wash, shampoo, soap, toothpaste, toothbrushes, deodorant, feminine products, and clothes.
Mount Pleasant Administrator Josie Browning-Haney said, "Our staff members told us about the program offered at the school and thought we could help. We are fortunate to be able to come together as employees and support our community. "
About Mount Pleasant Retirement Village
Mount Pleasant Retirement Village is a full continuum of care campus offering independent living homes and apartments, assisted living, Alzheimer's care, skilled nursing and rehabilitation and an on-site adult day center. Mount Pleasant is one of 12 retirement communities owned and operated by OPRS Communities, a wholly owned subsidiary of Ohio Presbyterian Retirement Services (OPRS), headquartered in Columbus Ohio. Since 1922, OPRS has defined the highest standards of quality of life for older adults. Each year, OPRS serves more than 73,000 annually through its wholly owned subsidiaries OPRS Communities and Senior Independence. Senior Independence Home Health & Hospice provides home and community based services, operates five adult day centers and manages two senior centers, in partnership with local governments. In addition, Senior Independence services are extended nationwide through its iPartners. Another wholly owned subsidiary, the OPRS Foundation raises several million dollars annually to support charity care, special programs, capital expansion and endowment.