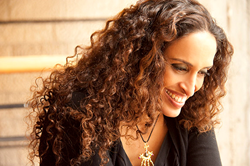 NOA crafts songs so impossibly perfect you wonder if they didn't fall from the sky like some rare Israeli rainstorm, -The Washington Post
(PRWEB) December 03, 2015
On Saturday, February 6, 2016, at 8:00 p.m., NOA (Achinoam Nini), Israel's leading international singer/songwriter, returns to the Gordon stage to celebrate the Gordon's 20th anniversary. A huge event for everyone, NOA was the opening act for the Gordon's very first show 20 years ago.
NOA is known the world over.
She has shared her angelic voice and magnetic stage presence with superstars such as Sting, Pat Metheny, Quincy Jones, Stevie Wonder, Andrea Bocelli and many more.
Together with her longstanding collaborator Gil Dor, NOA has released over 15 albums which have sold millions the world over. She sings in six languages, has collaborated with symphony orchestras around the world, and has performed in the world's most prestigious venues, including the White House.
NOA's strongest influences come from the singer-songwriters of the 60s, like Paul Simon, Joni Mitchell and Leonard Cohen. These musical and lyrical sensibilities, combined with NOA's Yemenite roots and Gil Dor's strong background in rock, jazz, and folk, have created NOA and Gil's unique sound, manifested in hundreds of songs written and performed together.
NOA plays percussion, guitar, and piano, and according to The Washington Post, "NOA crafts songs so impossibly perfect you wonder if they didn't fall from the sky like some rare Israeli rainstorm."
According to Randi Benesch, Managing Director of the Gordon Center, "NOA has thrilled, captivated and mesmerized audiences all over the world with her unique, passionate, and intelligent style of writing and performing."
"We are so excited to have NOA perform for the Gordon's 20th," Benesch says. "She knows how to touch the hearts of an audience with the power of her voice and the deep humanity of her message."
For press queries, please contact Gordon Center publicist Billy Treger at 410.559.3616 or btreger(at)jcc(dot)org. Tickets go on sale December 1, 2015. For more information regarding the event, please contact 410.356.7469.
###
The Peggy and Yale Gordon Center for Performing Arts is Baltimore County's premiere arts destination. The Gordon Center offers an eclectic variety of professional entertainment in music, theater, dance, family programming and film. You will experience world-class acoustics in an intimate, state-of-the-art venue. Free parking in well-lit spaces, handicap accessible, and equipped with a special RF system for the hearing impaired, the Gordon Center can be enjoyed by all.