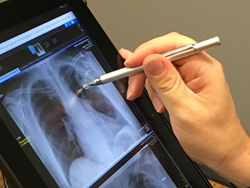 For imaging professionals across the globe who have needed superior portability combined with workstation-level image analysis features, the answer has arrived.
Chicago, Illinois (PRWEB) December 01, 2015
The workstation boundaries for imaging specialists to analyze, measure and share medical images have been lifted as IMAGE Information Systems launches MED-TAB™ -- the world's first portable DICOM-calibrated medical image display, debuting at the Radiology Society of North America Annual Meeting from November 29 to December 4, 2015.
MED-TAB is expected to change teleradiology because for the first time, imaging specialists are not tied to their workstation for premium quality image analysis, measurement and reporting. MED-TAB can be used for bedside image analysis, in surgery theaters, by on-call radiologists and in emergency situations. It was developed by a team of imaging professionals to solve the problem of needing access to medical image analysis without being tethered to the workstation. The device provides DICOM grayscale calibration not available previously in portable devices.
"MED-TAB isn't a radiology app, and it's not a tablet. It's a medical display in the form of a tablet, all in one," says Dr. Arpad Bischof, radiologist and co-creator of MED-TAB. "It offers premium quality features, including screen adaptability, an exclusive measuring pen and DICOM-compatibility. Users can work in a normal way from almost anywhere, using a Philips SpeechMike device, as if they were at a typical workstation (a feature that isn't possible with a typical tablet)."
"Because it was created by imaging professionals and radiologists, the device is a true teleradiology problem-solver," says Bischof. "MED-TAB is the world's first radiology tablet for image analysis. It can answer the call of imaging professionals who want to follow the trend of increasing use of mobile devices in medicine. With MED-TAB there is a calibrator and a calibration app included to adjust grayscales according to the DICOM standard, and to check the screen calibration. This is not possible using consumer devices."
There are additional advantages to using the MED-TAB device over other popular tablets. MED-TAB has an anti-glare display with patented 11-bit DICOM GSDF hardware grayscale calibration, fixed calibrated brightness of ~300 Cd/m2. An HDMI port connects the device to a larger display (data projector) for peer sharing. An integrated ambient light sensor provides an indicator whether surrounding light is appropriate for image analysis.
For easier image analysis, the screen is 69 percent larger than the iPad Air 2, and 67 percent larger than the Galaxy Tab 4. MED-TAB runs with the Android 4.4 operating system and supports most major PACS vendors using HTML5 zero footprint technology from IMAGE Information Systems. It is available with IMAGE's zero footprint DICOM viewer, iQ-4VIEW.
"For imaging professionals across the globe who have needed superior portability combined with workstation-level image analysis features, the answer has arrived," says Bischof. "Now professional medical image analysis is available from virtually anywhere, at any time."
Learn more at http://www.med-tab.com.
IMAGE Information Systems Ltd. provides innovative, complete and cost-effective solutions in the field of medical imaging. To learn more, please visit http://www.image-systems.biz.