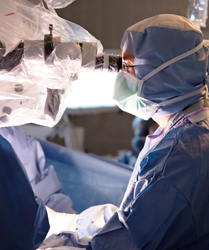 The research tells us that babies who receive the spina bifida repair surgery before they are born have a better chance of walking, and a decreased chance of needing a brain shunt to release excess fluid." -Dr. Mike Vlastos
St. Louis, MO (PRWEB) November 30, 2015
Until now, the St. Louis Fetal Care Institute used the surgery inclusion and exclusion criteria set forth in the MOMS (Management of Myelomeningocele Study) trial. One of these exclusion criteria was a BMI above 34.9. According to the CDC (Centers for Disease Control and Prevention), a BMI of 18.5 to 24.9 is considered normal, 25 - 29.9 is overweight and above 30 is obese.
"We think the benefits of prenatal spina bifida repair surgery may outweigh the risks for moms who have an elevated BMI up to 40," says St. Louis Fetal Care Institute Director Dr. Mike Vlastos, who is a fetal surgeon and SLUCare maternal-fetal medicine specialist. "The goal of the study is to gain an understanding of how to best care for these mothers and their unborn babies."
"The research tells us that babies who receive the spina bifida repair surgery before they are born have a better chance of walking, and a decreased chance of needing a brain shunt to release excess fluid," says Vlastos.
Myelomeningocele, a severe form of spina bifida, is caused when a fetus' back bones do not close over to protect the spinal cord. It can cause paralysis and brain damage before a baby is even born. The fetal myelomeningocele repair surgery, which is performed between 19 weeks and 25 weeks into a pregnancy, involves making an opening in the uterus, closing the fetal spinal cord opening and then repairing the womb.
Studies have shown that mothers with an elevated BMI have an increased chance of having a baby with spina bifida because of typically lower levels of folate. They are also at increased risk for blood clots and other complications during surgery. The team and facilities at SSM Health St. Mary's Hospital-St. Louis, where the fetal surgeries take place, are prepared to handle the risks associated with higher BMI surgeries and deliveries.
The St. Louis Fetal Care Institute will continue to follow the other criteria outlined in the MOMS trial. "For example, if a mother has hypertension, non-gestational diabetes or other risk factors she will not be eligible for the fetal surgery," says Vlastos.
An IRB is a committee composed of scientists and non-scientists who serve as patient advocates in medical research studies. There are currently two fetal surgery centers offering the surgery to mothers who have a BMI higher than 35.
In May 2011, the St. Louis Fetal Care Institute became one of the first centers to offer the operation after the release of the MOMS trial results. The team has evaluated more than 70 patients carrying a baby with myelomeningocele since 2009 and performed nearly 50 fetal myelomeningocele repair surgeries since 2011 when the trial concluded.
About the SSM Health St. Louis Fetal Care Institute
The SSM Health St. Louis Fetal Care Institute is a partnership between SSM Health Cardinal Glennon Children's Hospital, SSM Health St. Mary's Hospital-St. Louis, and Saint Louis University School of Medicine. Bringing together renowned maternal fetal medicine (MFM) specialists, pediatric and fetal surgeons, specialized nurses, cutting-edge technology, and a family-oriented approach, the St. Louis Fetal Care Institute offers state-of-the-art diagnostic methods and treatment options for families whose unborn babies are facing medical challenges. It is one of the nation's leading comprehensive fetal care programs, offering a variety of fetal interventions and treatments, including open and minimally invasive fetal surgery for babies in the womb.
About the MOMS Trial
In May 2011 The St. Louis Fetal Care Institute was one of the first centers to offer the surgery following the release of the MOMS (Management of Myelomeningocele) trial results. In this National Institute of Health (NIH) sponsored trial, patients facing a spina bifida diagnosis were randomly assigned to undergo fetal surgery or receive standard postnatal surgery. It was found that babies who have the fetal surgery often have better outcomes than those who receive the standard repair surgery after birth.