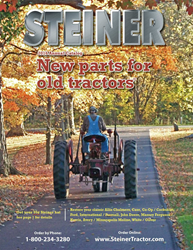 Our customers appreciate the opportunity to share their tractor restoration projects with the world
Lennon, Michigan (PRWEB) November 30, 2015
Customers and prospects who receive the 2016 Steiner Tractor Parts calendar or the 2016 Parts Catalog are delighted with the user submitted tractor photos. Tractor collectors have many choices in an attractive wall calendar, but few others support the antique tractor community by featuring user submitted photos. Thousands of tractor owners across the country participated in 2 different photos contests during 2015 to find the perfect photos to accompany both the catalog and the calendar.
The 2016 wall calendar not only features user submitted photos, but also has valuable coupons for SteinerTractor.com for each month. Many customers and prospects were surprised with a calendar in the mail this season, but anyone not selected randomly to receive a complimentary copy can purchase the calendar for five dollars while supplies last. The coupons inside will deliver lots of value beyond the five dollar price tag.
The 2016 Parts Catalog features a beautiful fall tractor scene submitted by customer Garrett Holmes of Hastings, Michigan. In addition to a lovely autumn scene on the cover, readers will find dozens of tractor photos within the pages of the catalog representing all of the major brands carried by Steiner Tractor Parts. "Customers appreciate the opportunity to share their tractor restoration projects with the world and we love having beautiful tractor photography for our print materials. The contest continues to grow as tractor restoration enthusiasts share the print pieces with their friends and family," shares Elizabeth Whiting from the sales and marketing team at Steiner Tractor Parts.
The 2016 catalogs are available through next fall. Please request a free tractor parts catalog on the company website. The calendars are available while supplies last and are available for sale on the website for $5.00.
About Steiner Tractor Parts
Steiner Tractor Parts specializes in restoration quality parts for American made farm tractors. They are an integral part of a larger community committed to preserving our agricultural heritage. Their role is providing obsolete components for Allis Chalmers, Farmall, International, Ford, John Deere and Massey Ferguson among others. Areas of specialty include manifolds, wheels, lights, switches, mufflers, battery boxes, fenders, steering wheels, carburetors, gauges, and more. They have a state of the art website and ship worldwide every day. To see the full product listing and E-Catalog, visit online at http://www.steinertractor.com.