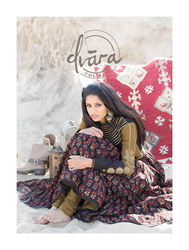 "Dvara is a visual, Indian fusion coffee table magazine unlike any other," said Karthika Gupta, co-founder of the newly launched publication.
Naperville, IL (PRWEB) December 02, 2015
When Naperville entrepreneurs Karthika Gupta and Jayashree Rao combined their passion for beautiful imagery with their love for their home country, they created Dvara, a quarterly, Indian-fusion lifestyle magazine launched this past spring.
"Dvara is a visual Indian fusion coffee table magazine unlike any other," said Gupta, co-founder of the magazine. "Dvara means "doorway" or "portal" and bridges the gap between ancient art forms, cultures and traditions of modern India."
Dvara showcases all things beautiful and unique about India in five sections: fashion, food, art, travel, and lifestyle. Inside the stylized publication, the reader embarks on a visual journey through Indian culture using a modern lens. The magazine arrives on high quality paper with a clean, soothing look and feel to complement the visual imagery within. The publication is skillfully produced to maximize the reader's visual enjoyment with uninterrupted graphic flow on each page.
The staff is working on their third issue, due out in November. So far, the Dvara Vol. 2 publications have been well-received and not only by people of Indian heritage.
"Dvara's audience is anyone and everyone who loves all things eclectic, beautiful, culturally rich and Indian. You don't have to be Indian to enjoy and appreciate her," said Rao.
While the founders are very different in personality, both have a background in and appreciation for the visual arts. Gupta, a lover of the outdoors, is a professional photographer and owner of "Memorable Jaunts" an on-location photography studio. She met Rao through mutual friends, and then took Rao's class in Mandubani, a style of Indian folk art. Rao prefers the big city, and is a stylist, ex-visual merchandising head at Ann Taylor, as well as a blogger and art instructor.
"Our sincere hope is for Dvara to become a platform to showcase artists, artisans, independent designers and other creatives," said Gupta.
Dvara's circulation has quickly expanded beyond the U.S. borders to places like Canada, India and Europe. To learn more about Dvara or subscribe to the magazine, visit dvaramagazine.com or connect with them on Facebook or Twitter.