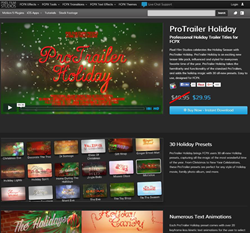 Animate the title and subtitle uniquely and easily in a matter of seconds with ProTrailer Holiday!
Aliso Viejo, CA (PRWEB) January 26, 2016
Pixel FIlm Studios celebrates the Holiday Season with Pro-Trailer Holiday. Pro-Trailer Holiday is an exciting new teaser title pack, influenced and styled for everyone's favorite time of the year. Pro-Trailer Holiday takes the familiarity and functionality of the standard Pro-Trailers and adds the holiday magic with 30 all-new presets.
Pro-Trailer Holiday brings FCPX users 30 all-new Holiday presets, capturing all the magic of the most wonderful time of the year. From Christmas to New Year Celebrations, these Pro-Trailer presets are perfect for any style of Holiday movie, family photo album and more.
Each Pro-Trailer Holiday preset comes with over 20 key-frame-less kinetic text animations for the user to select from. Animation speed and spread is also adjustable for different unique looks and variations. Animate the title and subtitle uniquely and easily in a matter of seconds.
Pro-Trailer Holiday comes with fully editable 3D text that's easy to modify in Final Cut Pro X. Users can add in which ever phrase, or word they want and adjust the texture, lighting style, thickness, depth and more.
FCPX users simply drag the generator to timeline and edit. The Environments in each generator can be disabled for over-laying footage or Photos. Uniquely and highly-detailed Holiday styles are just a few short clicks away.
Established in 2006, Aliso Viejo, California-based Pixel Film Studios is an innovative developer of visual effects tools for the post-production and broadcast community. Their products are integrated with popular non-linear editing and compositing products from Apple FCPX. Apple, the Apple logo, Mac OS X, and Macintosh are registered trademarks of Apple Inc. in the U.S. and/or other countries. All other trademarks and trade names are the property of their respective owners.