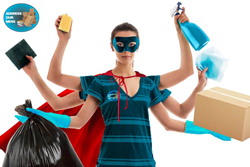 Deadlines will not be troublesome, but rather will be met with compassion, patience, and productivity.
(PRWEB) November 30, 2015
December is a busy month, concluding the year with many tasks, events, and responsibilities. With the combination of the holidays, family gatherings, and the approaching New Year, chaos and clutter may ensue. Address Our Mess (AOM) is offering expedited cleaning services during December of 2015. Clutter clean up services can be helpful amenities, but worrying if a cleanup project will be completed on time can just add to the chaos and stress rather than make life easier.
AOM's expedited services will supply a quick and efficient cleanup to clients in need. Large cleanup situations will not be delayed with AOM's certified, experienced staff on the job. With 48 hour notice, AOM is able to tackle the job and restore a property to clean, livable conditions.
After Thanksgiving, it seems as though there is one thing after another, with little time in between. Due to a multitude of events piling up within a limited time period, it is generally difficult to complete every task at hand within the limited allotted period of time. AOM's staff is able to appropriately plan and work with the customer in order to provide expedited services for this busy month. If there is a specific deadline that the cleanup needs to be completed by, the crew is able to plan accordingly and still provide an effective cleanup within the specified time period.
Expedited services include, but are not limited to: hoarding clean up, clutter clean up, organizing and sorting services, animal hoarding clean up, and estate clean-out. AOM has worked with various situations, so larger clean up circumstances will be handled appropriately and treated with just as much care, efficiency and promptness as those of a lesser magnitude. Upon an initial inquiry, one of AOM's local estimators will be able to contact the customer in regards to pricing, details of the situation, and time-frame. AOM offers free estimates so the customer may take advantage of and develop an idea of the potential costs.
When a customer agrees to utilize AOM services, a local crew will arrive on the agreed upon date. Through this process, the staff will be able to sort and dispose of specified items, box and transport said items, and organize the home at the discretion of the property owner. Working with the customer allows for an efficient clean up that will please the property owner, allowing him or her to be included within the decision-making process. The combination of qualified workers under the direction of a skilled case manager, quick decision-making, and a proficient plan produces a quick-paced, successful job completion.
No matter what holidays, events, or circumstances are piling onto the to-do list, Address Our Mess can ease the stresses and burdens accompanying the overwhelming load by subtracting the pending cleanup project from the list. Deadlines will not be troublesome, but rather will be met with compassion, patience, and productivity. AOM's expedited cleanup services will be offered from now until the end of 2015, concluding the year with prompt, accommodating services and good cheer.