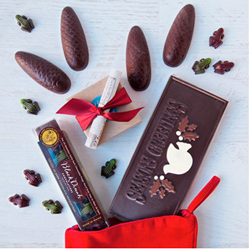 For lovers of decadent and delicious handmade chocolates everywhere, Black Dinah Chocolatiers' Christmas offerings are perfect for everyone on the list.
Westbrook, Maine (PRWEB) December 02, 2015
For lovers of decadent and delicious handmade chocolates everywhere, or for the last minute holiday shopper looking for the perfect chocolate gifts, Black Dinah Chocolatiers' new Christmas collection brings home the generous and fun spirit of the Holiday season.
Black Dinah Chocolatiers is the Maine-based makers of signature gourmet truffles, which combine exquisitely textured, single-origin chocolates from Venezuela and Peru with the freshest, locally produced cream, butter, herbs, fruits and flowers gathered from a dynamic network of farms and gardens in Maine. In addition to its regular truffle assortments, the new collection includes:
Tiny Tree $12.00
At approx. 3'', this tiny tree is dark chocolate with a snow dusting on the branches.
Pear Champagne Truffles $56.00
The lively bite of champagne provides the perfect counterpoint to mellow pear sweetness in a gorgeously finished dark chocolate truffle that's almost too pretty to eat.
4 Piece Package $8.50
The quartet of truffles is the perfect way to give anyone a hint of just how far the taste of choice chocolate can go. Sample flavors may include our Eastside Flamingo, Bees & Flowers, Gingerbread truffle and a Varietal. Each set may be different.
Pinecones $3.00
These are the kind of pinecones everyone hopes to find under their tree. Chose the classic version, featuring dark, single-source Venezuelan chocolate. Or choose the same complemented with creamy, sweet peanut butter.
Frogletiers $13.95
Black Dinah dressed their favorite froggy friends up just for the season. These limited edition chocolate frogs are available in red and dark green.
Season's Greetings Bar $16.00
Three delicious chocolates come together in this colorful bar. Its dark chocolate base is finished with milk chocolate holly leaves and a creamy-white dove.
Sipping Chocolates $13.00
Creamy, steamy, and oh so dreamy. The rich sipping chocolate is the perfect way to warm up any holiday or night.
Toy Soldier $15.00
The toy soldier is made with white chocolate stripes and dark chocolate details on a milk chocolate soldier.
Train $12.50
An old-fashioned holiday just pulled into town. The dark chocolate train features four fun shapes with the rich, creamy taste.
Tiny Santa $14.00
This charming, dark chocolate Santa is made with milk and white chocolate details.
Big Santa $120.00
This large dark chocolate Santa with milk and white chocolate details deserves to be the center of attention.
Buildings $12.00 & $25.00
Take a tasty trip to town with any one of our dark chocolate buildings. Available in two sizes. Pick one, two, or a few from a sweet set that's sure to impress.
Stocking-Stuffer Set $50.45
Stocking stuffers are available with a range of sweets including 4 Dark Chocolate Pine Cones, 7 oz. Seasons Greetings Bar, 4 piece Grand Assortment box of truffles and Frogletiers.
Towers $30.45 - $215.40
Available in four sizes.
The Small Tower $30.45
Includes 8 Piece Farm Market Collection Truffles and 4 Piece truffles.
The Medium Tower $66.25
Includes 18 Piece Farm Market Collection Truffles and 8 Piece Box of Flagship Caramels.
The Large Tower $123.75
Includes 28 Piece Grand Assortment, 18 Piece Farm Market Collection Truffles, and 8 Piece Box of Flagship Caramels.
The Chocolate Lover Tower $215.40 Includes 4 Peanut Butter Pine Cones, 28 Piece Grand Assortment, 18 Piece Farm Market Collection Truffles, 5 Bark, Sipping Chocolates, Frogletiers, and Kate's Desserted Cookbook
Noel Nonpareils $4.00
Available in either a dark or white chocolate. Both come colored with the sprinkles of the season.
Rocking Horse $17.00
This is an old-school Rocking Horse made with a milk chocolate base and is accented with dark chocolate details.
These items will be available at the Black Dinah Chocolatiers' retail stores in 869 Main Street, Westbrook, Maine or at 5 Main Street in Blue Hill, Maine, or ordered online at http://www.blackdinahchocolatiers.com.
###
About Black Dinah Chocolatiers
Kate and Steve Shaffer founded Black Dinah Chocolatiers (http://www.blackdinahchocolatiers.com) in 2007 on Isle-au-Haut, Maine - one of only 15 remaining year-round island communities in the state.
A self-taught chocolatier, Kate has won many awards and accolades over the years, including a 2015 Good Food Award for her Cassis de Resistance truffle; being named as one of the top 10 chocolatiers in North America by Dessert Professional Magazine; receiving a Best Cookbooks of the Year Award by Food & Wine Books; named Maine's Best Chocolate in Down East Magazine's Reader's Choice Awards; winning the Bronze in the Cookbooks Awards by Independent Publisher; listed as a Home-Based Business Champion by Small Business Administration; and being named a Finalist in the Foreword Book of the Year Awards by Foreword Reviews.
Kate's talents and chocolates have also been recognized and praised in national media including in three separate issues of Martha Stewart Living, Bloomberg, Gourmet Magazine, The Washington Post, Bon Appetite and The Boston Globe.
As well as being a Chocolatier, Kate is also the author of a best-selling book, Desserted, which features over 45 of her delicious recipes, and describes the realities of living on a remote Maine Island.