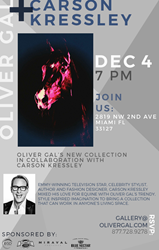 Kressley's infectious creative personality was a great source for our collaboration
Miami, Florida (PRWEB) December 01, 2015
Oliver Gal is excited to announce a new collaboration with Emmy-winning television star, celebrity stylist, author and fashion designer, Carson Kressley. The exclusive capsule collection will be unveiled on Dec 4th, in a special event at the Oliver Gal Pop Up shop in Miami, hosted by Carson himself and Oliver Gal founders Lola Sanchez and Ana Sanchez-Gal.
The new and exclusive line of art showcases pieces inspired by Carson's favorite imagery, combining his love for bold colors, high fashion, whimsical commentary, and especially dogs and horses. You can still expect to see the unique, cutting edge and fresh look that all of Oliver Gal's pieces carry, with an extra masculine twist from Carson's influence.
This is your chance to meet Kressley, the "fan-favorite" and host of ABC's world-wide hit, Dancing With The Stars. You may also recognize Kressley's energetic inspiring personality on OWN's show "Carson-Nation", Lifetime's critically acclaimed show "How To Look Good Naked" and Bravo's "Queer Eye for the Straight Guy" where he earned a primetime Emmy.
Kressley is a true trailblazer in the lifestyle category as he is a frequent style contributor on "The Oprah Winfrey Show" ABC's Good Morning America and many others. Kressley is also a New York Times best-selling author with three books to his credit. When Kressley is not starring on stage or screen, he can be found astride one of his American Saddlebred show horses. His love for his World Champion horses is very evident in the subjects used for the art in this exciting collection.
Lola Sanchez co-founder and Art Director of Oliver Gal Artist Co. said "Kressley's infectious creative personality was a great source for our collaboration. We are extremely proud of this new capsule collection and can't wait to share it with the world."
Below is a sneak peak of an iconic piece spearheading the venture between Oliver Gal Artist Co. and Carson Kressley. Come see the full capsule at our Art Unveiling Oliver Gal party December 4th at 7pm! RSVP at gallery@olivergal.com or visit olivergal.miami. Space is limited.
The Oliver Gal Co-Founders Ana Sanchez Gal and Lola Sanchez describe the team's art as "industrial chic." The pieces blend urban and abstract motifs, making them well-suited to contemporary spaces. "They are timeless pieces with a modern edge," Lola says.