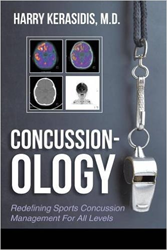 "Concussions should not prevent sports participation, but a sport culture shift needs to occur. Concussions must receive proper care," said Dr. Kerasidis. "Take action. Respect your brain."
Annapolis, Md. (PRWEB) December 02, 2015
Concussions are a rising epidemic. Head injuries have dominated the headlines in the NFL recently, and with the release of the upcoming film, "Concussion," starring Will Smith, the discussion isn't likely to fade any time soon. Yet millions of cases go unreported every single year, especially in the world of athletics.
Dr. Harry Kerasidis, a neurologist specializing in sports concussion detection and prevention, authored the new book, "Concussion-ology," to emphasize the severity of these brain injuries. He also highlights the importance of accurately detecting a concussion as soon as it happens and teaches readers how to properly administer treatment.
"Concussion management is emerging as a new field of medicine and industry," said Dr. Kerasidis. "I wanted to share my protocol and supporting tools to provide helpful guidance for the athlete, the medical professional, and everyone in between."
Dr. Kerasidis' expertise enabled him to create his own concussion protocol, which has already been used by more than 30,000 individuals ranging from youth to professional sports. The Michigan High School Athletic Association currently uses his system, XLNTBrain, and Kerasidis expects to expand its use across the country in the coming years.
"Concussions should not prevent sports participation, but a sport culture shift needs to occur. Concussions must receive proper care," said Dr. Kerasidis. "Take action. Respect your brain."
For more information, visit http://www.xlntbrain.com.
Concussion-ology
By: Dr. Harry Kerasidis
ISBN: 978-1-50492-515-0
Available in softcover & e-book
Available on Amazon, Barnes & Noble and AuthorHouse
About the author
Harry Kerasidis, M.D., is a neurologist specializing in sports concussion detection and prevention. After 25 years treating thousands of concussions, Dr. Kerasidis created xnltbrain.com, an online and mobile platform to provide everything necessary to help prevent, detect and protect athletes from concussions. Dr. Kerasidis also founded Chesapeake Neurology Associates, serves as Medical Director at Calvert Memorial Hospital for the Center for Neuroscience, the hospital's Sleep Disorders Center and Stroke Center.
# # #
For review copies or interview requests, contact:
Drew Tharp
317.602.7137
dtharp(at)bohlsengroup(dot)com